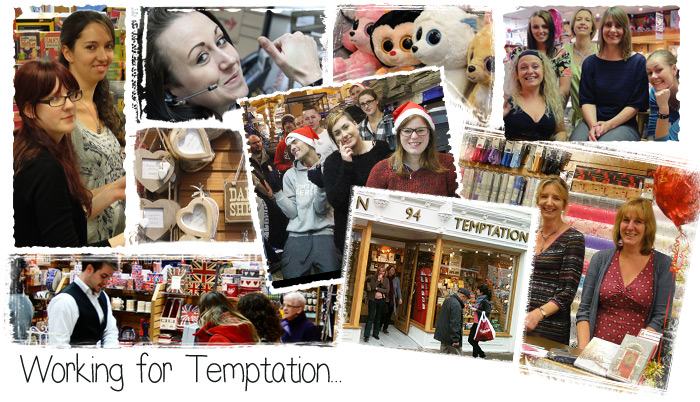 Working for Temptation Gifts
Want to be part of a great team? Want to join the best gift chain in the UK?
Temptation Gifts is a multi-award-winning retailer with six high street branches in Amersham, Berkhamsted, Henley-on-Thames, Windsor, Newbury, and in Beaconsfield, as well as a hard-working warehouse team and an ever-expanding e-commerce department.
When we're looking, we're looking for friendly, hard-working, enthusiastic people who have a real passion for retail.
Philosophy – Great Gifts….Great prices…..Great Staff!
For over three decades we have worked at sourcing great gifts at great prices. When a customer picks up a product in Temptation we want them to think " What great value"
Thirty years ago – when we opened a small store in Berkhamsted – it was fairly unusual to be 'greeted' when you walked into a shop. We decided that each and every customer should be made to feel welcome when they visited our store so all our team members are asked to smile and say hello to each and every customer. It really matters that they have chosen to visit us today so we always try to go the extra mile and let them know that they are appreciated.
So all employees are expected to look, sound and be enthusiastic as they only thing more contagious than enthusiasm is… lack of enthusiasm. We have no room for mood hoovers!
Training
Our basic training is divided into four modules – Induction, Customer Service and Selling, Display and Stock control. There is a lot to learn because we stock 1,000's of gifts and cards so although you won't be expected to have a perfect memory you will be expected to do some homework and add to your own product knowledge by looking at our web sites. At the end of two months, or sometimes earlier if you have other retail experience, you will be a fully fledged member of the team. As we update stock on a weekly basis there is ongoing product training.
Staff Discount
You get 10% discount on most items from your first day and after you've completed your 2 month trial period with us your discount rate goes up to 30% - very useful at Christmas time! All staff discount purchases must be made in store based on in-store prices, and staff discount is of course not available on Sale items.
Growth and Career Development
Temptation Gifts is growing fast, and our best people will grow with us. Our Head of Retail is the most senior person in the company, but she first worked first in the warehouse, then the stores, before managing one store then another and now, well, everybody! The Head of E-Commerce first worked for Temptation as a Christmas Temp in the warehouse. Each of our current branch managers was a sales assistant before joining the management programme and each now has her own store. We are continuing to open new stores and the web department is doubling in size and turnover every two years. Cream rises, and we promote from within.