Return to Previous Page
Bomb Cosmetics take the art of bathing seriously. Whether you want to relax after a hard day or refresh yourself before you go out, Bomb Cosmetics products are designed to indulge you. Mixed, pressed, moulded, rolled and shaped by hand, using the finest ingredients, natural butter and pure essential oils, these handmade aromatherapy cosmetics will help you leave any worries behind the moment you turn on the tap.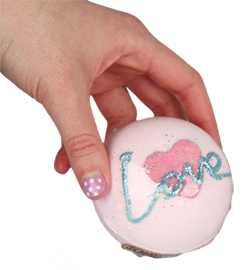 Explosion of indulgence!
Established over 14 years ago, Bomb Cosmetics launched their range of natural, fun and affordable bath and body products at just a few trade shows in the UK. From those humble beginnings, they now export a proudly British and varied product range all around the globe, to over 45 countries.
Handmade goodness
All of Bomb Cosmetics products are mixed, pressed, moulded, rolled and shaped by hand in the UK by their trained factory staff, bringing you lovingly hand-made cosmetics of the highest quality. All products are made using finest quality ingredients with the addition of essential oils for their therapeutic and aromatherapy benefits which will fill your bathroom with aroma even when they are not being used. All products are also free from Parabens, or Paraben based preservatives.
Relaxing time that won't cost you the earth.
Bomb Cosmetics aim to run their business in the most environmentally friendly manner possible. The card they use in their products has a minimum recycled content of 70% and their aim to use as little packaging as possible, recycling used materials whenever possible. Their core belief is that the moments of indulgence using Bomb Cosmetics should have minimum negative impact on the environment.
Bomb Cosmetics also ensures that none of their products, nor ingredients from their suppliers are tested on animals and is committed to a fixed cut-off date policy in line with major animal right groups recommendations.
Back to you…
Designed to make you feel special every time you use them, Bomb Cosmetics combine fragrances that make your mouth water, or remind you of special times or simply make you smell divine, with the finest, carefully selected essential oils. Why not treat yourself and find out how good they really are?