Return to Previous Page
Did you know? Our Terramundi Pots can be personalised with your message!
Standard pots £22.50
Deluxe pots £54.95 £49.99
Personalisation Only £2.99 per side
Need more choice?
Personalise Your Pot!
The majority of the Terramundi Money Pots stocked by us can be personalised to add your own message which will be hand-painted to order by our in-house artist. Depending on the design, you can add your own text to either front, back or front and back of your pot, in your colour of choice, making a fantastic, personalised gift for someone who could do with a hand with saving!
About Terramundi Money Pots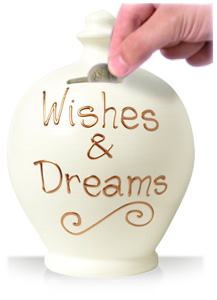 Terramundi Money Pots have been traditionally used in Italy for over 2000 years and their hand thrown design has remained unchanged. Ancient examples of such "Etruscan Money Amphora" can be found in The British Museum.
Once the first coin is dropped it is safely saved forever, until the pot is fully fed, at which point it must be smashed to release its treasure. The wish card you dropped with the first coin may well now come true! It is customary to replace the pot and spend the money on "Good Things".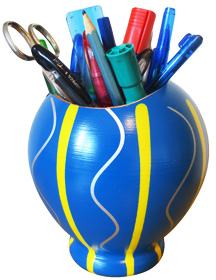 Click here to see how you can reuse your money pot!
Did you know? Terramundi money pots remain great gifts long after they are smashed, perfect as a desk tidy, candle holder, or a plant-pot. If you want to reuse your pot, the best way to break it open is to get a chisel or the back of a claw hammer and place it inside the money slot - slowly apply pressure and the top should just pop off! You can then bed in your pot plant, or even use it as a desk tidy. For a few creative ideas what to do with your pot once you filled it up and it's ready to be broken up, read our blog post in which you'll find some truly smashing examples! We will admit though- there is a certain satisfaction in seeing the whole pot fall to the ground and spill its hundreds of pounds over the floor!
How The Pots Are Made All the pots are hand made in Italy and then shipped to the UK in their rough and original state ready to be painted and varnished in the beautiful array of designs which can be seen on our site. To start with each pot is sanded to leave a smooth finish to the Terracotta, and then they are washed and left to dry. Each pot is hand painted and, where several different layers of colour are used, each layer is applied and then left over night before applying the next coat. Once the final coat of paint is dry a layer of varnish is applied to give the final finishing touch! Every Terramundi is supplied with a "Fortune Coin" and a leaflet explaining the full history of the pot.