TemptationGifts' TV Ad Campaign
"Imagine a website that is like the best gift shop you've ever been in...."
Here at Temptation Gifts, we are delighted to unveil our Christmas TV Campaign airing on television from 25th October! Trying to convey the spirit of the best local gift store you've ever been to with the added benefit of online shopping in the comfort of your own home, we have created five different ads packed to the brim with great gift ranges, perfect for everyone and every occasion. Look out for them on your favourite channel and let us know what you think by email or on our Facebook page. We would love to hear from you, so please give us your feedback and help us spread the message that shopping should be fun! To have a sneak peek scroll down to watch three 30 second ads with links to the brands they feature to get you in the mood for Christmas shopping! And if you'd like to learn about our the making of ads, read our "Behind the scenes" story here.
Ad 1 - Great Brands
The following brands or ranges were featured in the Great Brands ad. Click on any of the brand names to shop.
---
Ad 2 - High Street Favourites
The following brands or ranges were featured in the High Street Favourites ad. Click on any of the brand names to shop.
---
Ad 3 - Unusual Gifts
The following brands or ranges were featured in the Personalised and Unusual Gifts ad. Click on any of the brand or range names to shop.
---
Click on videos below to watch our short teaser ads!
Behind the scenes - the making of our ads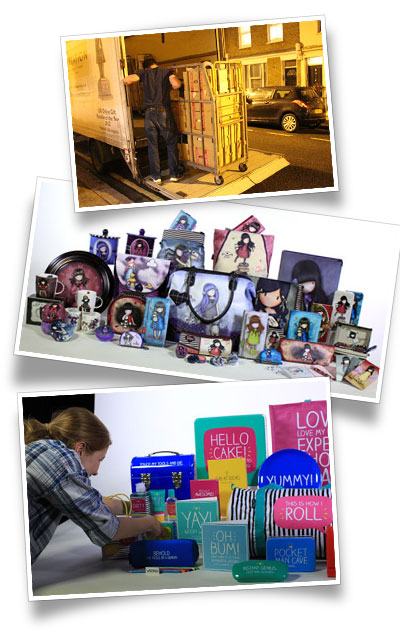 Temptation Gifts has been successfully trading for over thirty years. The business, which began as a small shop in Berkhamsted, expanded over the years to six high street stores and a website which continues to grow at a rapid rate, gaining good reputation for a fantastic selection of products matched by excellent customer service. Always keen to try something new and not being the kind of company that rests on its laurels, we decided to investigate the world of TV advertising in advance of Christmas 2015, and the process has been a fascinating, and we hope, inspiring one. Here is the story of how our new festive ad campaign was put together.
We had been preparing for the "big day" for weeks - carefully choosing which products to feature and experimenting with the best ways to arrange them. Arriving at the recording studio in London at 5am on a sunny September morning, together with five pallets of stock and approximately 500 display stands, we knew we had a busy day ahead!
Every display which was included in the ad had been previously created at our own office and then photographed so it could be painstakingly recreated, with every product carefully positioned exactly as it had been – although of course, there were a few last minute tweaks – perfection is our business, after all! Once we were happy with the composition and final touches were applied, filming could start. There was no time to rest – we had at least 15 product displays involving bespoke china, fiddly gadgets and cuddly toys to unpack, set up, and then pack again!
Halfway through the shoot, we transferred the filming operation to a nearby coffee shop for our "live action" scenes with Tracey, our lovely commercial actress. Browsing the Temptation Gifts website on phone, laptop and tablet, her facial expressions conveyed every appropriate mood, from curiosity to interest to 'I want that' and finally, the click of the button that confirms everything is on its way – shopping with us is stress-free and fun!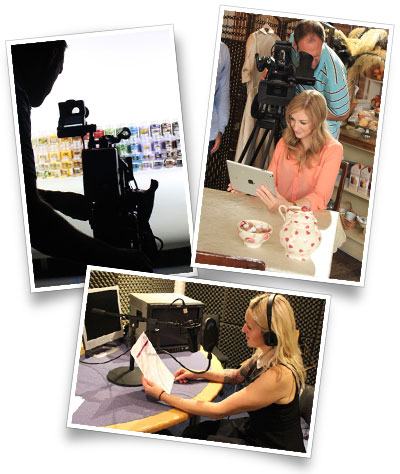 After many hours of filming, with all the stock carefully re-packed and loaded onto the van, we felt exhausted, but excited about what we had achieved, and we couldn't wait to see the results. A few days later we were back in the London studio, this time taking part in the creative work on the "first cut", where different pieces of footage were carefully edited together, timed to perfection and transformed into five different adverts, complete with a very catchy music track, specially composed for Temptation Gifts!
After that there was just one more thing to do – the recording of the ads' voice-over! It is not unusual for a different actor or actress to record the voice-over for an ad, and in this case, after listening to quite a few, we chose Emma to be the voice of Temptation! On the recording day, she proved to have the perfect approach – conveying the message with an upbeat, melodious and trustworthy voice.
Look out for the ads in the run up to Christmas and decide for yourself if we got it right. We tried to convey the spirit of the original store and make it into a virtual shop with a huge variety of gifts for everyone, with enough sparkle to give it festive appeal. We hope you'll enjoy our first foray into the world of advertising as much as we did. One thing is for sure – this first ever TV advert campaign in the history of Temptation Gifts is something we are incredibly proud of!