East of India Personalised Gifts
Temptation Gifts and East of India: A Unique Collaboration
Over more than a decade, Temptation Gifts has been the leading retailer of "East of India" gifts in the UK, selling tens of thousands of stunning gifts every year from our six Home Counties stores and from the TemptationGifts website.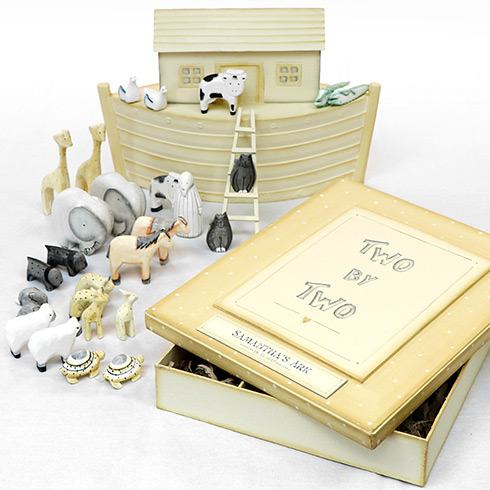 Perfect keepsake: Personalised Noah's Ark Gift Set
With their carefully crafted designs, (created in collaboration with artisans in the third world), and the beautiful sentiments they convey, East of India products are often the perfect gift for important occasions, - such as marriages, christenings, and the magical arrival of a new baby. So, early in 2016, Temptation Gifts approached Anne Spratling and John Ayres, the owners of East of India, with an idea to create a unique range of East of India gifts which could be personalised to make these kind of occasions extra special.
Over the following few months, working closely together from our own offices in Buckinghamshire, and from the East of India offices in Folkestone, we gradually put together a stunning range of unique gifts which reflect the design style and individuality of the East of India brand, but which can be personalised by hand at the Temptation design studio to make them extra special. We are now proud to offer these products for sale, which are unique to Temptation Gifts.
Over the months and years ahead, we hope to continue to add new products to this range, which we believe will prove in many cases, to be wonderful heirlooms passed on from one generation to the next.
View all Personalised Gifts from East of India here