Return to Previous Page
About the Brand
Carrie Elspeth set up her jewellery business back in 1999, and has barely looked back since.
A Welsh woman through and through, Carrie first opened a small studio in the rural market-town of Cowbridge, South Wales, with the determination to become a market leader in creating well-designed, accessible and beautiful jewellery, all of which would be handmade locally.
All these years later her founding principles still stand strong, and the brand has increased in stature. Carrie Elspeth employs dozens of staff to keep up with demand for her necklaces, bracelets and earrings, and to help to continue creating new designs and ranges that keep the brand as fresh and contemporary as ever.
Shared Values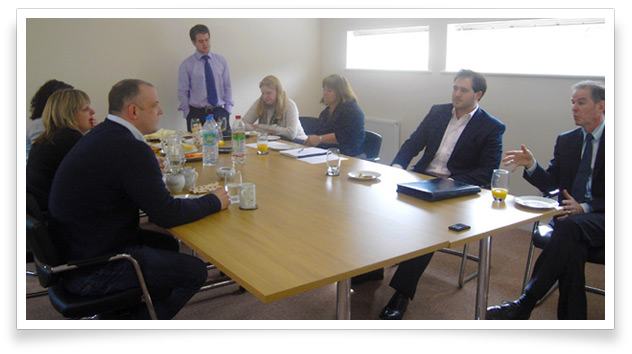 The Temptation Team meets with Carrie and her team!
TemptationGifts has been working closely with Carrie Elspeth since 2005, selling her designer jewellery in our stores. In 2008, we met with Carrie and her team to discuss the collaboration of our two companies with regards to selling the jewellery online.
We are proud to say that we are the Recommended Online Retailer of Carrie Elspeth jewellery, and have been since that meeting five years ago.
There are many reasons why Temptation and Carrie fit so comfortably together. Both companies are owned and run by a husband and wife team, with a commitment to maintaining a balance between business and family life. Both have won national awards in the gift industry for the quality of our work, and both have an enviable reputation for the highest standards of customer service.
Comprehensivity
Carrie produces a vast range of styles and designs - in fact, she recently released her 1,000th design, a staggering achievement!
As her Recommended Online Retailer, we offer by far the most comprehensive selection of Carrie Elspeth jewellery, with hundreds of current designs in stock.
Each year, Carrie brings out three or more new collections, and we have a commitment to keeping up to date with all her new releases, offering them to our customers before they are available anywhere else online.
Not only do we sell hundreds of earrings, bracelets and necklaces, but we physically hold stock in each of them, all at once. That means they are ready for immediate dispatch and can be with you sooner rather than later.
Being the Best
Selling jewellery online, and in particular bringing to life the some of the subtle, beautiful stones used in Carrie's jewellery, requires a special commitment to the quality of photography, to the product descriptions and to the site design and layout. Both Carrie Elspeth and Temptation wanted to ensure that the widest possible range of Carrie's jewellery is available to those members of the public who want to buy on the internet, but equally importantly that the quality of service would match the standards that both companies set in their daily work.
If you have any queries regarding Carrie Elspeth's stunning jewellery, our customer service team are on hand to assist you. Our phones are staffed from 08:30 to 17:30 from Monday to Saturday, and we guarantee you will talk to real people and not be put on hold. Emails are answered within four hours (allowing for evenings and Sundays), meaning we really do offer you the best service.
Email customerservice@temptationgifts.com or call 01494 79042 if you have any enquiries, Carrie Elspeth related or otherwise.