About Carrie
Creating a Collection
About the Gift Boxes
About Carrie Elspeth
Carrie Elspeth always knew that she wanted to have her own business. With a background in Design and a childhood filled with making jewellery for friends and family, it was a simple decision for the hardworking graduate.Inspired by meeting other entrepreneurs who shared her passion for ideas and enthusiasm, Carrie set up her jewellery business in 1999. Determined to become a market leader in creating a well-designed, accessible and beautiful product that would be handmade locally, Carrie's business foundations still hold strong to this day.The business has grown incredibly since Carrie first opened a little studio in the rural market-town of Cowbridge, South Wales.
Now occupying a large studio-warehouse in the same town, Carrie Elspeth employs 10 staff and has a team of 25 local outworkers who manufacture the jewellery to the same high standards that Carrie first implemented. One of the most significant changes to the business arrived in the form of Carrie's husband Steve, who left a successful career in a blue chip I.T. company to join Carrie Elspeth as Managing Director in 2003. It was their shared intention to bring some of the technology and best practices from a large company and introduce it to Carrie Elspeth to help it to grow in a sustainable way. It was a challenging decision for both Carrie and Steve meaning that Carrie Elspeth would now have to support the entire family, but the shared belief in the potential of the company was strong and they deemed the risk worthwhile. Hindsight has proved what a good choice it was, as Steve has been able to help drive the business forward, concentrating on the day-to-day running of the office and implementing a foundation of computer-based technology. This has helped the business manage its growth and allowed Carrie to focus on her creative skills and have more time to design beautiful jewellery.
It has been a journey full of challenges, not only from a business perspective, with steep learning curves for Carrie in all areas, but also from a personal perspective as she has had to battle with the constant challenge of achieving an acceptable work/life balance. Carrie and Steve wanted to start a family, and the birth of their son 8 weeks prematurely added extra pressure to an already life-changing event. One of the hardest choices women face in business is the balance of motherhood and personal ambition, and Carrie has found herself busier than ever, albeit under even more rewarding circumstances.
Carrie still gathers beads from all over the world, choosing carefully for each new range she designs, inspired by colour and shape as she always has been. Three full jewellery Collections are launched each year, more than most companies can achieve, to keep shop displays fresh and the many Carrie Elspeth fans happy.
The hard work and commitment from Carrie and her dedicated team has not gone unnoticed. Carrie was recently crowned winner at the Welsh Woman of the Year Awards for Best Small Business Owner, and achieved the glowing accolade of being finalist for "Best Service to Independent Retail" at The Greats industry awards. She has also won the Welsh Young Business Achiever and World Young Business Achiever in Innovation and Design awards, which culminated in an invitation to Buckingham Palace to meet the Queen! Awards are a welcome boost from the industry, but what drives Carrie forward is the positive response she has always got from the public, the people who buy and wear her jewellery. With every new Collection she designs and launches, Carrie is re-invigorated and re-inspired by the comments she receives, and will continue producing beautiful, accessible, handmade jewellery as long as she can!
back to Carrie Elspeth section page
The Creation of a Carrie Elspeth Collection
Your favourite piece of Carrie Elspeth jewellery has been on quite a journey, and it all begins with the beads.
Carrie sources new beads from all over the world, looking for ones which ignite her creative spark and say something to her, as well as ones which tell their own story. Beads sourced in an ethical fashion are always imbued with such a positive story about the people who have made them by hand, or created them from raw and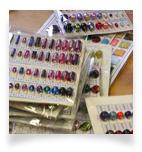 recycled materials.
Carrie surrounds herself with sample-boards of beautiful beads, and once she has chosen her favourites, small quantities of each are ordered so she can start designing. The design-room is filled with boxes of beads, in all shapes, sizes, materials and colours, and it is here where Carrie draws her inspiration.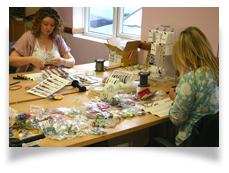 The design process sometimes starts with sketches, and sometimes Carrie designs her own beads to achieve exactly the right effect, and then she gets straight to work, picking different colours and materials which feel good together.
Carrie's designs are led primarily by the season that the new collection will be launched in. Inspired by colours and textures she thinks will embody the feel of the new season, Carrie also keeps a close eye on what is happening in High Fashion, and the trends that retailers will be looking out for. Carrie's creative instincts have always led her, but she also understands the lure of the mainstream fashion industry and tries to keep that in mind with some of the colours and shapes she chooses.
Each collection is traditionally comprised of a selection of styles. Carrie always caters for both day and evening wear, while bearing in mind seasonal tendencies for either weddings or parties, prompting an increase in glamorous or sophisticated designs.
It can take 6-8 weeks to complete the design process, as Carrie needs to work closely with other members of her team to make sure that the ranges she designs will be affordable when completed.
When a full collection has been designed, usually comprising of 10-12 ranges, the beads that Carrie has chosen to use are ordered in bulk.
In the meantime samples of the new ranges are made up In-House, professionally photographed, named and descriptions are written for the catalogue. When the beads finally arrive and a new collection launch is imminent, extra training is arranged for the Outworkers, all of whom are locally based.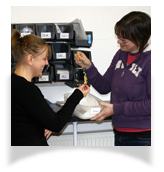 Currently there are 25 Outworkers who come to the studio every week to collect their boxes of beads and instructions for the week's making, and to return the items they have made. Two people on Carrie's team are employed solely to ensure the Outworkers get all the supplies and support that they need.
Each week 60,000 beads are carefully weighed out, given to the outworkers and returned as finished jewellery items: it is a huge organisational operation!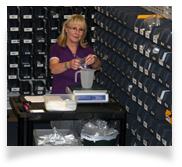 When the boxes of jewellery are returned by the Outworkers, they then need to be carefully checked to ensure they reach the high quality standard which Carrie expects and her customers rely on. The items that pass the quality control are bagged, coded and hung onto pegs in the warehouse.
The jewellery is now ready to be pulled off the pegs and packed into orders: after 4-5 months of designing, training and preparing!
back to Carrie Elspeth section page
Carrie Elspeth Giftboxes
Standard Collection Giftboxes
On every item in the latest collections and the Timeless Classics range, you can check a box to add the appropriately-sized giftbox to your order. (Small for earrings, medium for bracelets and large for necklaces). This takes the place of our normal "Giftwrap" option, and will ensure your jewellery is sent to you beautifully displayed within its Carrie Elspeth branded giftbox.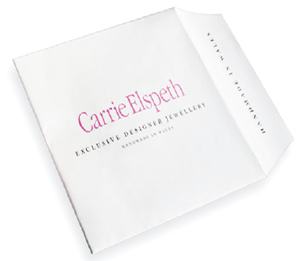 Standard Collection Jewellery envelope
If you purchase any items from Carrie's latest collections or the Timeless Classics selection, and do not choose to add a giftbox to your order, your jewellery will be sent to you in a smart Carrie Elspeth jewellery sleeve, secured in a box or padded envelope.
back to Carrie Elspeth section page