What Type of Traveller Are You?
It's that glorious time of the year again where we get in the holiday spirit and it's time to start packing for that all important vacation that you have been waiting all year for! To help you we have come up with a selection of travel essentials for every type of traveller...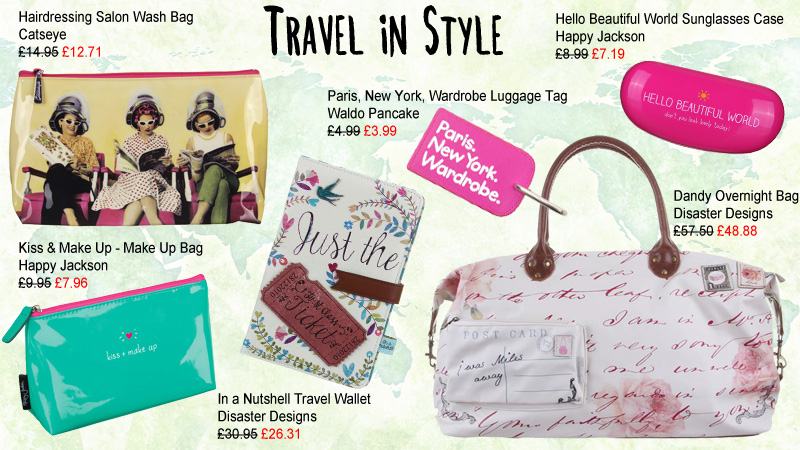 The Stylish Traveller
Travelling is the perfect excuse to pick up a bunch of new accessories. First of all a large bag to fit all of your items (essential and non-essential), Disaster Designs have a great range of Overnight Bags we have picked out the gorgeous Dandy Overnight Bag which is plenty big enough and fully practical for travelling.
A wash bag and make-up bag are also a must for keeping all those beauty essentials in-check, the Lipstick Woman Washbag from Catseye and the Kiss & Make Up – Make Up Bag from Happy Jackson are both perfect with wipe-clean insides for any leakages that may occur in transit – and they look great too!
You've brought a great pair of shades, but you can't just throw them in your bag and expect them to still be in once piece – the Hello Beautiful World Sunglasses Case from Happy Jackson is a practical – but yet stylish way to keep them looking perfect. Everyone's worst nightmare is losing that all important suitcase that is full of those specially selected holiday outfits – not saying that we can prevent that- but we can offer this cute Paris. New York. Wardrobe Luggage Tag where you can put all your details if the worse was to happen.
Last of all is the In a Nutshell Travel Wallet by Disaster Designs – This handy wallet is perfect for storing all those essential travel items – passport, tickets, and any other travel details.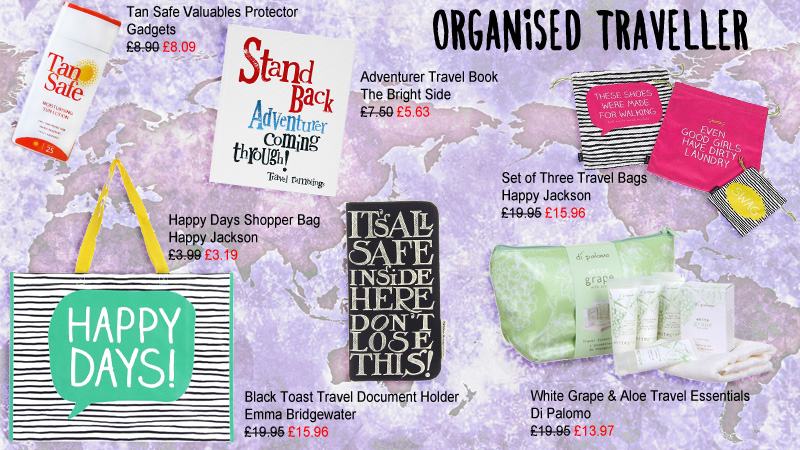 The Organised Traveller
You have been planning this trip before you even booked it, you know what you want to do, the best times to go, and all the insider knowledge before you've even left home. You probably already have everything sorted but here is our best pick of items perfect for those who like to be organised.
The Adventurer Travel Book from The Bright Side is perfect for creating packing check lists and handy bits of information for when you arrive. The Black Toast Travel Document Holder from Emma Bridgewater is ideal for keeping all those tickets and booking confirmations together in one place, you won't be the one holding up the queue with this essential travel must-have.
The Set of Three Travel Bags from Happy Jackson are perfect for keeping your suitcase super organised. No point trying to fit those full-size bottles of shower gel into your bag – it's taking up valuable clothing space don't you know?! – This White Grape & Aloe Travel Essentials from Di Palomo is perfect – they already come in a cute wash bag, and being small in size there will still be plenty of room for that extra pair of shoes.
Next we have the Happy Days Shopper Bag from Happy Jackson which is great for use in the day, chuck all your essentials in and off you go – an important bag accessory is then the Tan Safe Valuables Protector – of course you had your travel insurance sorted out months ago, but just for that extra bit of security this item is perfect for concealing your valuables whilst on-the-go.
The Junior Travellers
If "Are we there yet?" is a well heard phrase for your travel journeys then this selection of travel items for kids is ideal. The 1000 Stickers for Girls/ Boys is perfect for keeping your little ones occupied in the car, on the plane or whatever your mode of transport may be. You've got to your destination and chants of "I'm bored!" are already starting to be heard. The Shark Popper and Friendship Loom Deluxe Set are fun activities to keep the peace.
If you are going to be near water then the Waboba Bouncing Ball is a must-have, this ball bounces on water, it is perfect for the beach and will provide hours of fun for kids and adults alike! The Bobble Sports Water Bottle is another item that is not just for kids but if perfect for travelling - keeping hydrated and fresh, the in-bottle carbon filter purifies any water so perfect for on-the-go top-ups.
Last of all to keep all these items together is the Anti-Boredom Toy Suitcase from The Bright Side, perfect for keeping in the car, or taking on as hand-luggage on the plane, it is ideal for keeping everything together plus who doesn't love a tiny suitcase of their own to carry?!
The Manly Travellers
Don't worry, we haven't left you guys out, here is our pick of important manly travel bits. The Bike Print Cables and Clobber Bag from Ted Baker is perfect for keeping all those beauty essentials (we know you have them) hidden in this striking bike printed wash bag. Inside that bag we recommend the Poo-Tonium Spray from Poo~Pourri, just spritz the bowl before you go and no one else will ever know!
The Dad Nap Eye Mask is a must-have for any Dads out there looking for a bit of peace and quiet during their vacation time – remove yourself from the madness with this soft eye-mask from The Bright Side, also from The Bright Side is this handy Act Like a Rockstar Sunglasses Case, even though they will spend most of their time on your head – when the time does come for your sunglasses to be put away – store them in this hard case to ensure they are well looked after.
Next, from Waldo Pancake, we have the Lug Me or Leave Me Luggage Tag, we know how you like to be the first one at the airport luggage carousel and this bright tag will not only make your bag easy to spot, but it allows you to leave your information if it decides not to turn up. Last of all – we know you are super organised in your head but why not show everyone visually with this subtle* Man with a Plan Travel Wallet which is very useful for keeping all those essential travel bits together in one place.
Wherever you are off too, home or abroad we wish you well! – Or if you are still left to book a get-away trip let our Travel Inspiration Board Inspire you!
**Prices displayed in images were correct at time of publishing, these are subject to change
Rebecca