Now the Summer months are finally here (even if the weather is suffering an identity crisis), Wedding Season is beginning to reach its peak. To help out a little, we're bringing you a useful mini-series of blog posts about some of our best wedding gifts and items. First on the agenda is planning for the big day...
Whether you're heavily involved in the wedding or just a friend wanting to give a helping hand, we've got a few useful ideas to help with the organisation of the big day.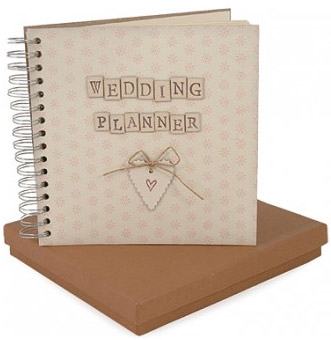 Thorough Planning
We have a selection of Wedding Planners to help you (or the lucky couple taking the big step) take control and stay on top of all the organisation duties.
For the more traditional book, this East of India planner is just what you need. Classy and understated, each left-hand page is lined for plenty of detailed notes, while each right-hand page has a large pocket to keep extra pieces of paper or other odds and ends. Colour swatches, samples, receipts; whatever's relevant for the wedding will find a home here! And with 20% off in our Summer Sale, £15.16 is a bargain, especially considering what a life-saver it will undoubtedly become!
If you're after something with an irrepressible sense of bubbly fun and excitement, this 'Our Very Huge Big Day' wedding planner from the Bright Side is just what the doctor ordered. The planner features designated sections to help plan every aspect of the wedding, from the seating plan to the photographers. There isn't an aspect of wedding preparations that this book doesn't cover, and at just £6 in our Summer Sale, it could well be the best purchase you make all year!
Saving Up
We all know the costs of a wedding can soon begin to spiral out of control. It's always good to have a little bit of extra money stored up to help with any costs (expected or unexpected), so why not start saving straight away with a beautiful Terramundi Money Pot?
We've got a wide selection of pots suited for wedding savings, the most obvious and classic of which is the Wedding Fund Money Pot. Available with gold or silverwriting, the pot can store hundreds of pounds. All our Terramundis are the most competatively prices online at £17.50, a great investment to help build future savings for the big day. To view all our wedding money pots

---
For more brilliant gift ideas for wedding season, have a look at our brilliant gifts