Valentine's day is a wonderful opportunity to take a bit of time and show the object of your affection that you're truly grateful to have them in your life. It's the most romantic of calendar dates, and some relish the opportunity to show off their gift-buying prowess.
For others, present buying is less easy and a little more stressful; finding that perfect gift can seem like a daunting task. The other stumbling block can be what to in the evening. Restaurants hike up their prices and all the best ones are fully booked weeks in advance. As you'd expect, we've got some fantastic ideas for a romantic Valentine's evening in, with a couple of unique twists on some classics, meaning you can save the money you'd spend on an expensive meal and spend it on your lovely partner instead!
Firstly, just because you're not eating out, it doesn't mean you should go with some indulgent treats. If you'd like something already prepared, we've got a scrumptuous selection of chocolates, just waiting to be unwrapped and enjoyed. Whether you like Belgian truffles or chunky chocolate hearts, your sweet tooth is certain to be satisfied. And if you can't wait until after dinner to open them, well, we won't tell anyone...
Alternatively, if you or your partner has a penchant for the home-made, why not invest in a gorgeous Emma Bridgewater heart shaped baker? If you order in time you can bake your own special Valentine's cake and present it to your better half on the big day. On the other hand, the ceramic baking dish makes a wonderful present in its own right, and will allow for countless yummy and romantic creations during the years to come. There are three fantastic designs to choose from, from the outwardly romantic I Love Chocolate to the sophisticated Polka Dots or Pink Hearts.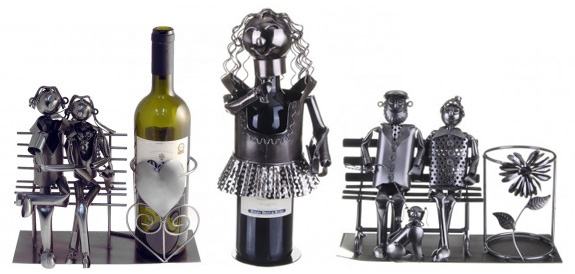 It's all well and good having plenty of delicious chocolate and cake, but make sure you don't forget about the drink! A special bottle of wine is a classic choice and one we're in favour of; you can now find some really nice stuff in most supermarkets, but specialists are also always a good choice as they can help you pick out exactly what your partner likes.
Why simply give a bottle of wine, though, when you can give one with a Temptation twist? Make the wine even more special with the addition of one of our stylish bottle holders. We've got a whole range to choose from, from romantic lovers on a bench to a party girl ready for a night on the town. Whatever the personality of your loved one, you'll be able to match it up with a uniquely different gift, adding a thoughtful touch to a classic Valentine's treat.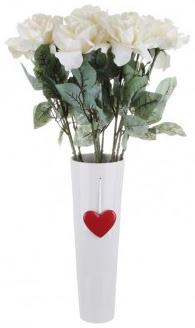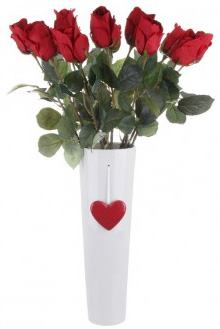 The final classic gift that completes the set is, of course, a beautiful bunch of flowers. Roses are the obvious option, and of course there's nothing wrong with that! We've got both red and white artificial roses, as well as a sleek, love-themed vase to keep them in. The vase features a red ceramic heart and will act as a lasting reminder of your love. You can buy it on its own, or with a bunch of red or white roses.
Whether you decide to treat your partner to all three of these gifts or just one of them, they're all a great way to begin your Valentine's evening in style.