Last month MD Mike, Buyer Christian, Products Marketing AR and I went on a road-trip to Stoke-On-Trent to see how some of our favourite pottery pieces are made.
Leaving Buckinghamshire at 7.30 we set off on our 2 and half hour journey, with of course – a very important stop to get some much-needed snacks! – Malteser anyone?
So after a toll road experience and a few wrong turns later we finally reached our first destination – the wonderful Emma Bridgewater factory.
Located in a revamped Victorian building on the banks of the Caldon Canal we were invited in by the lovely Angela who firstly took us through to the café which houses the famous Polka Dot Aga – Oooh!
After a quick nosey around the gift shop we were whisked away onto one of the factory tours with our very knowledgeable tour guide, who took us on the full journey of how a piece is made and each process and step it has to go through from casting to decorating and glazing. Christian even tried his hand at moulding a plate! We were truly amazed how much work went into creating each and every piece of Emma Bridgewater pottery.
And here are the most interesting things I've learned about Emma Bridgewater pottery, which you probably didn't know!
20 Bags of Pottery are used each day
Each mould can be used for up to 6 weeks and then has to be replaced by a new one
25-35 people are involved in the making of one ½ Pint Mug
It takes 45 minutes to set a ½ pint mug
Mondays are good mould days because the slip(clay mix) it is made out of is fresher
Each pattern sponge used for applying the design onto a piece of pottery is hand carved using soldering irons and tweezers
A pattern sponge lasts 2-3 weeks
The Polka Dot design has 8 dots of each colour
34,000 pieces are made each week
Each back stamp is done individually
Coming to the end of our tour we met up with Angela again to have a wonderful lunch in the beautiful café which included a generous slice of Red Velvet cake for me at the end – yummy!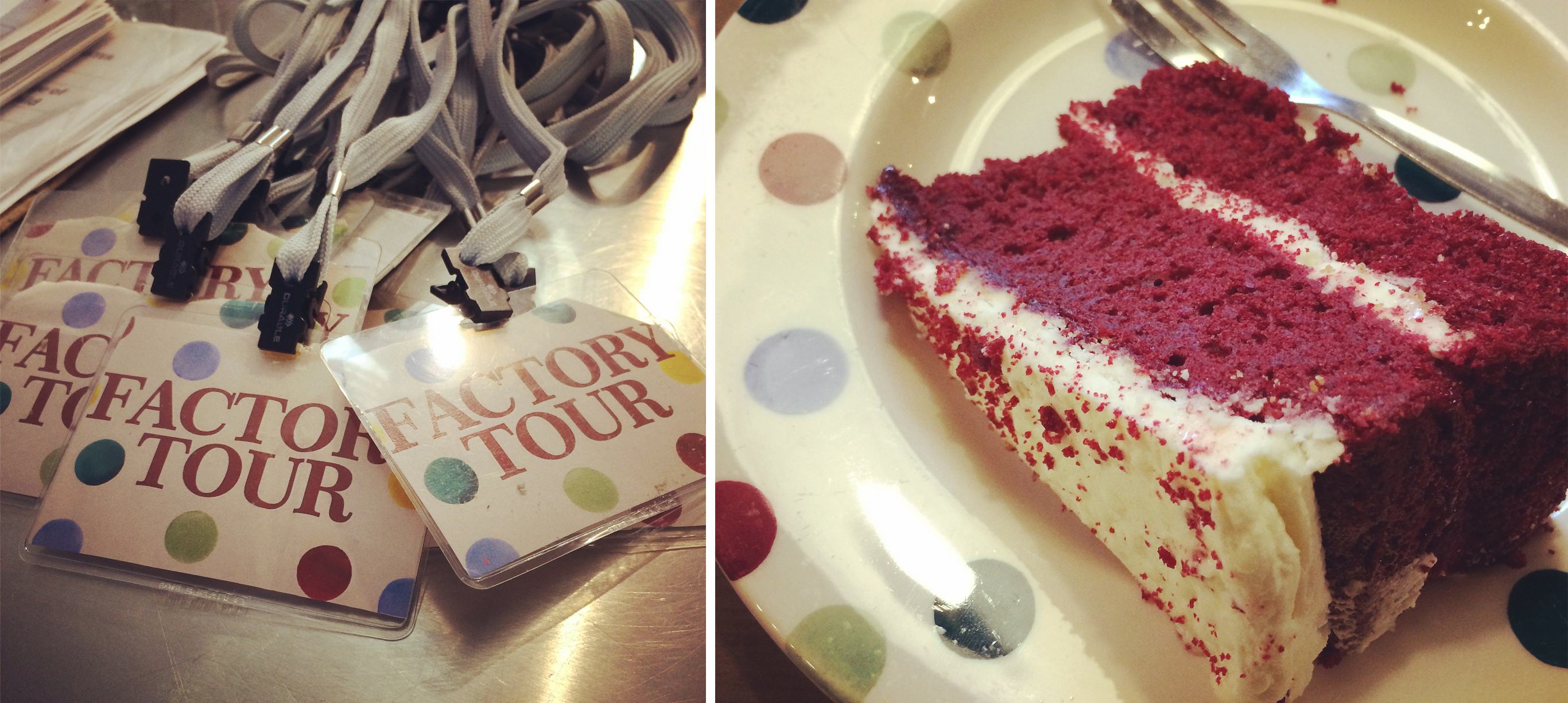 Once we were re-fuelled and ready to go we were taken behind-the-scenes to the Emma Bridgewater on-site offices and got to have a sneak-peek at some of the new collections and stock on offer.
We finally left the factory late afternoon and started off on our next part of the journey which took us across to the other side of Stoke-on-Trent to Stone where on a small inconspicuous industrial estate lives our good friends at the Dunoon Factory.
Greeted warmly by the founders of Dunoon. The meeting room was like a glorious shrine to everything Dunoon with each and every mug proudly displayed in cabinets that surrounded the room.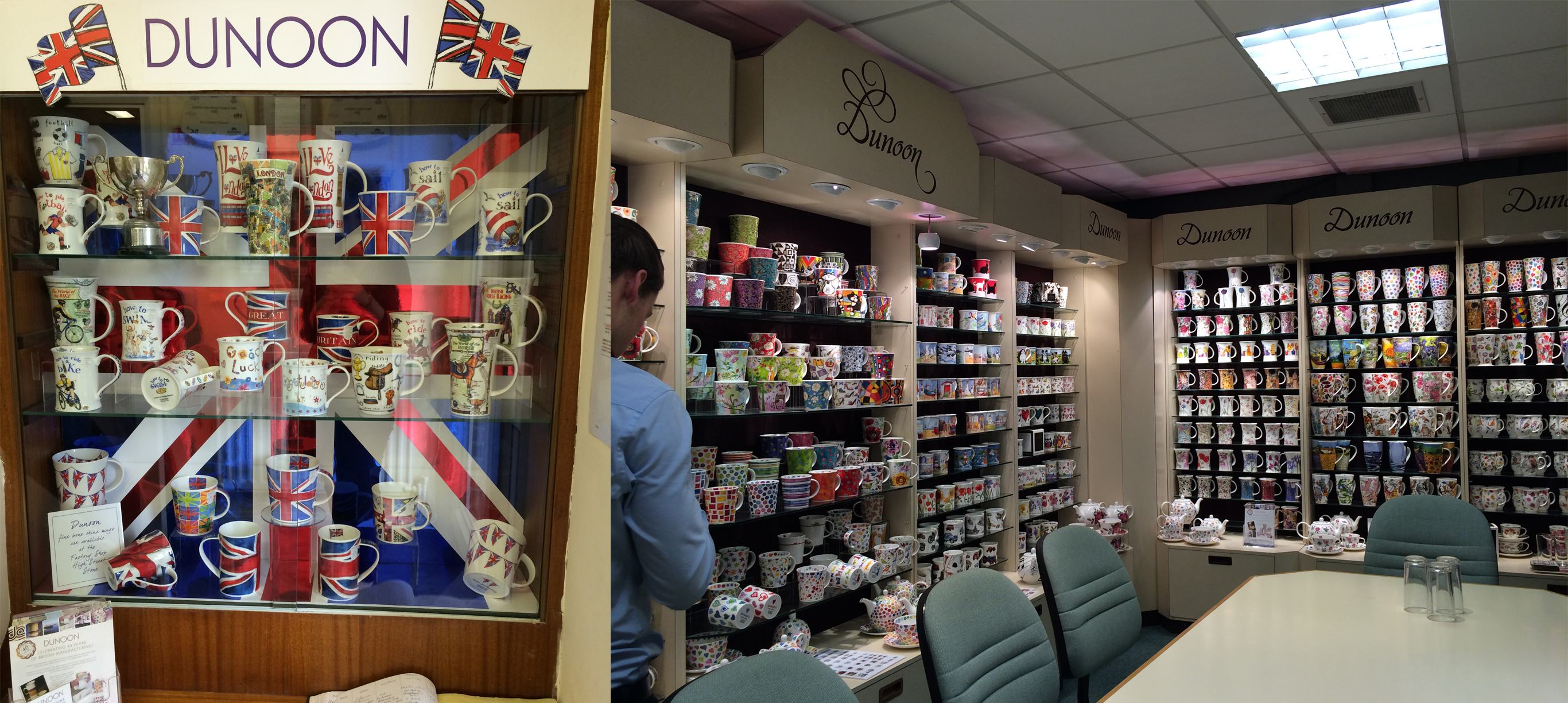 After a quick catch-up chat we were taken for a factory tour by Paul who again showed us the full 27 step manufacture process for a Dunoon mug from start to finish.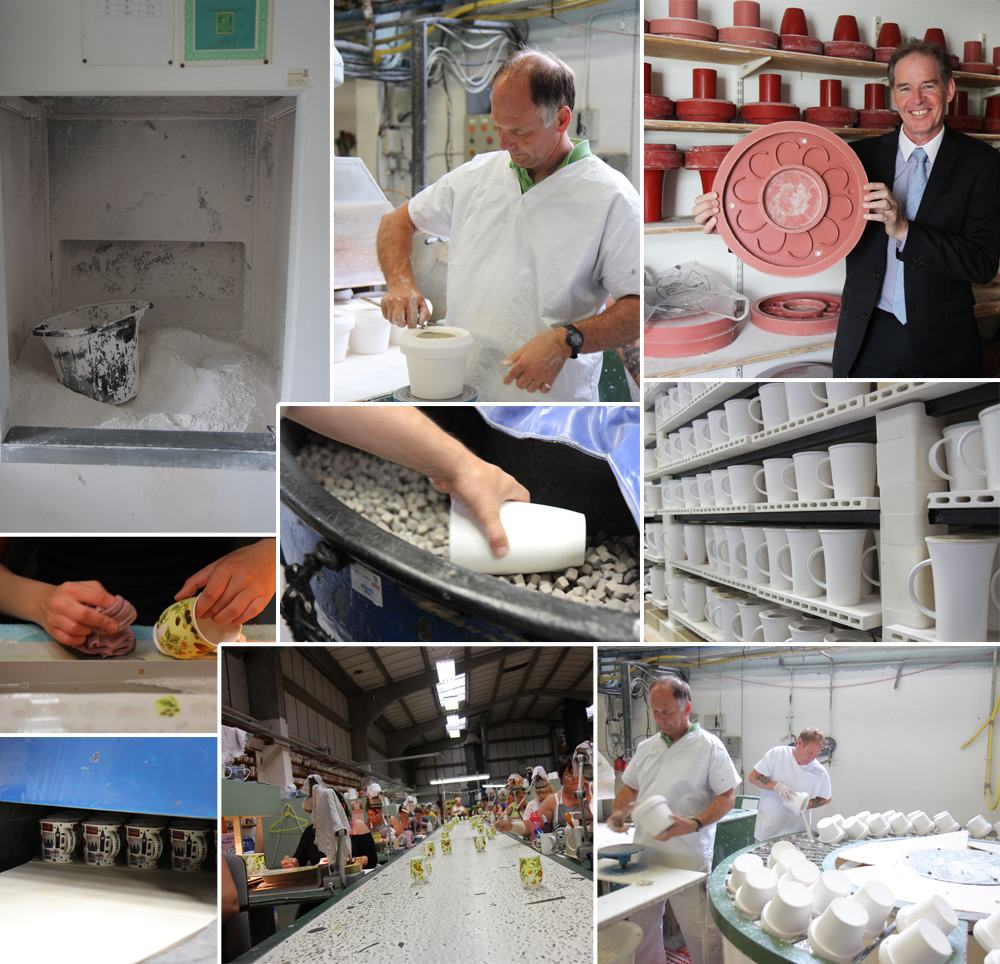 If you are interested in Dunoon's history and how the mugs are made, click here. Here are more interesting things I've learned about Dunoon pottery, which again, you probably didn't know!
Each rubber mould used for shaping mugs gets 30 uses
China Clay+Ball Clay+Ground Bone+Silica Sand+Nephaline Syenite = A Dunoon Fine Bone China Mug
A new mug is created every 2.5 seconds
Mugs shrink by 10% when fired in the kiln
Around 18,000 pieces are made in the factory each month
Each mug goes through 4 inspections before getting the Dunoon sticker
Many Dunoon workers have been with the company for over 20 years
All ceramic waste is sent to HR Johnsons Tiles for recycling
The number on the bottom of each mug refers to the person who put the transfer on
Instead of using a jiggle machine, Dunoon mugs use slip-casting' to ensure a fine, lightweight mug
Back to the meeting room for another chat, mainly about Stoke's football team – (queue blank faces from us non-football fans!), but also talking plans about the possible manufacture of a very special 50 years Dunoon limited edition mug! - Watch this space!
So leaving Stoke-on-Trent that evening full of pottery knowledge (go on test me!) and cake! We were satisfied to know that 2 of our favourite brands are as passionate about their products as we are selling them.
Arriving back in Buckinghamshire late evening we were ready to rest our weary feet and probably dream about all things pottery related. We would like to send a huge thanks out to the Emma Bridgewater Factory and everyone at Dunoon Ceramics for making us feel so welcome.
And check out our website for Brand New Dunoon and Emma Bridgewater pieces launched this week!
If you fancy learning more about Emma Bridgewater – find out about the factory tour here – We can highly recommend it!
Rebecca