Top 10 Gifts for Teachers
It's nearly the end of the school year, which means it's time to say thank-you to that special teacher for all the hard-work they have done throughout the year.
I got the chance to ask a group of children from a local school in Buckinghamshire what they would like to buy their teacher to say thank you. Their responses went from the do-able Teddy Bear and Chocolates to the more out-there; a Car, a Mansion and a Dog – this just shows how much kids really do appreciate their teachers, and we are here to help you find the perfect gift to truly say thank-you for educating and inspiring them.
We may not have the tallest giraffe or crowns that your little ones may have had in mind for their special teacher, but we do have a great selection of keepsake gifts from mugs to jewellery and bookmarks to chocolate, so we're certain you'll find something you like.
Teacher's Tin
At number 1 we have the best-selling Teacher Tin. Similar to its counter-part the famous Man Tin – this tin is just for Teachers perfect for storing all their essential items including gold stars and board pens.
Maths Made Easy Mug - Dunoon
At number 2 we have the Maths made Easy from Dunoon. This mug is not only very informative but extremely practical in the Glencoe shape which holds 500ml of tea or coffee – perfect!
Teacher Bracelet – Carrie Elspeth
At number 3 it's the Wonderful Teacher Bracelet from Carrie Elspeth. This adorable bracelet has a cute metallic owl pendant, and it comes on a piece of card with has the message "To a wonderful teacher, a big thank you". A perfect keepsake for any special teacher.
Teacher Metal Keyring – East of India
At number 4 is a keyring from East of India. Presented on a large gift tag, which is perfect for writing a message of your choice, is a silver keying which says "Special Teacher" and on the back is a trolley token! This is a useful gift that will be appreciated by any teacher.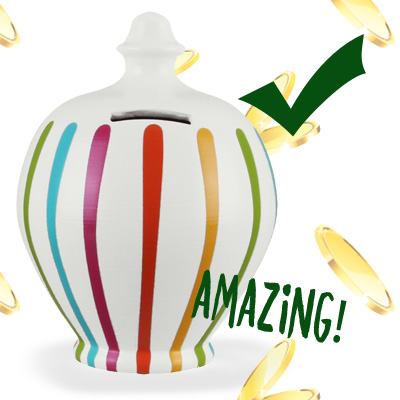 White with Multi-coloured Vertical Stripes – Terramundi
At number 5 we have a stunning Terramundi pot with a colourful summer design perfect for any design scheme. Whether they keep it in the class room or take it home – it is a gift that keeps on giving once they save all those pennies up!

Important teacher notes notebook – The Bright Side
At number 6 it's the Important Teacher Notes Notebook. It does what is says on the front, a notebook for all those vital teacher notes. With a mixture of lined and plain pages it is perfect for any teacher with lots of space for doodles and plans.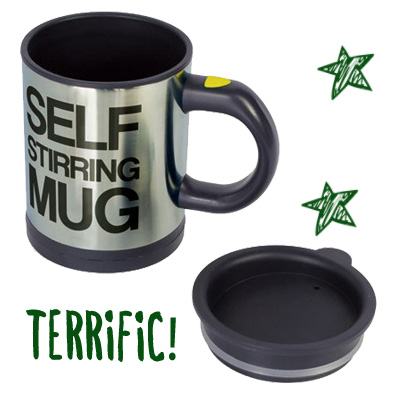 Self Stirring Mug
At number 7 is the Self Stirring Mug. A slightly silly gift but very useful, perfect for an on-the-go teacher to give them a helping hand. Simply make your tea or coffee and press the button, no time wasted searching for a spoon - more time for important teacher duties.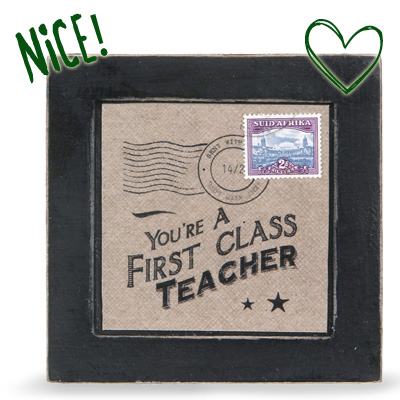 First Class Teacher Picture – East of India
At number 8 we have East of India again with this great First Class Teacher Picture. This fab framed block image will take pride of place on any teacher's desk on wall. A heart-warming present perfect for any teacher.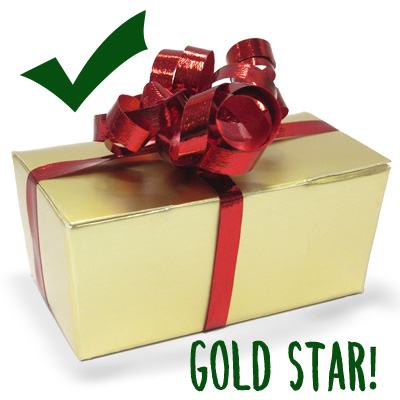 16 Assorted Belgian Chocolate Truffles
At number 9 we have the traditional fool-proof gift of chocolates, but why not add that little bit of something special with our great selection of 16 Belgian Chocolate Truffles, with a variety of scrumptious fillings all beautifully presented in a sleek gold box, wrapped up with a red ribbon making it a luxurious gift for any well-deserved teacher.
Happy Days Ballpoint Pen
And last but not least at number 10 we have the Happy Days Ballpoint Pen from Happy Jackson, presented in a gift box this quality pen will be a long-lasting gift. A practical and perfect present for any teacher.
For more gifts check out our
Teacher & Graduation Gifts
section or follow our
Pintrest Board
Rebecca