Starting quietly in 2003 in Australia the term Movember has now grown to be a global movement with support from over 4 million people worldwide.
At the start of November guys take action by signing up with a clean shaven face and commit to growing a moustache for the entirety of November to raise money and awareness of prostate cancer, testicular cancer and mental health.
Since 2003 it is estimated that 4,027,688 people have taken part and a total £346m raised which now supports 770 men's health projects*.
Each Mo Bro must begin on the 1st of Movember with a clean shaven face!
For the entire month of Movember each Mo Bro must grow and groom a moustache.
Don't fake it, no beards, no goatees, no fake moustaches.
Use the power of the moustache to create conversations about men's health and to raise funds for prostate cancer, testicular cancer and mental health.
Each Mo Bro must conduct himself like a true gentleman…
Here at Temptation Gifts we have rounded up the office lads and set them the challenge to grow their best moustaches for the month of November.
Setting up their 'Mo Spaces' on the Movember Foundation page on 31st October the race is on to see how many funds they receive, and of course… who can grow the most impressive tash!
Now for those of us who are unable to grow a moustache or are looking to give a bit of support to the men in their lives, we have rounded up our favourite Moustache Gifts…
The Moustache Pacifier is perfect for giving 'Daddy' a mo-buddy in the form of his little one. As well as being super cute it will certainly get everyone talking.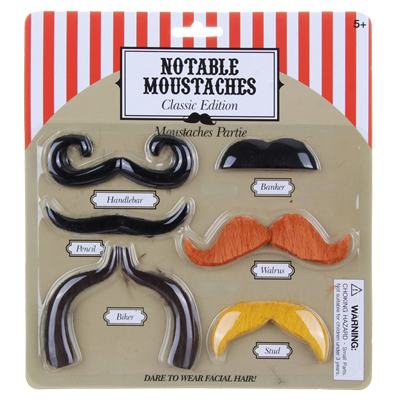 Support the men in your family or workplace with this Notable Moustaches Classic Edition Set which are perfect for giving a bit of friendly competition (and support) for those taking part in Movember around you.
The Tache Tools Wash Bag from Happy Jackson is ideal for carrying around your moustache grooming items to keep that mo in tip-top condition.
Our selection of moustache mugs including the Transformers Robots in Disguise mug, are perfect for any self-righteous gentlemen's hot
beverage of choice.
Find more moustache related gifts from Temptation Gifts here
But here are a few gifts from others which we love;
Toms
For the fifth year in a row Toms have teamed up with The Movember Foundation to raise funds and awareness for mens health through the power of the moustache… and shoes. Get your pair of limited edition shoes and not only will you be raising funds for Movemeber, but as always – with every pair your ourchase, TOMS will give a new pair of shoes to a child in need.
Penhaligons
Get your Movember Mo Wax from Penhaligons and they will donate £2 for every tin sold in November. Perfect for keeping your mo well groomed and smelling as good as it looks.
*From Movember.com
Rebecca