Summer has now officially begun, and just in time for the start, of what I feel, is a British Summer icon event – Wimbledon!
Starting way back in 1877, Wimbledon is now one of the most prestigious international tennis tournaments, held every year between June and July at the All England's Club in the London suburb of Wimbledon.

In order to provide the freshest strawberries around, they are picked the day before from the county of Kent, arriving at Wimbledon at 5.30am ready to be served that day.One of the long standing traditions of Wimbledon is the serving of Strawberries and Cream. Did you know that 8615 punnets are consumed daily with 28,000kg of strawberries and 7000 litres of fresh cream being consumed during the whole tournament?
Whoever you are backing, whether it is the defending champion Andy Murray, whose mum and former tennis coach is rumoured to be swapping her tennis pumps for dancing shoes in preparation for the next series of Strictly Come Dancing! – Fancy! Or maybe nice guy Novak Djokovic who famously shared a drink with one of the ball boys at the French Open in May, this year's Wimbledon is sure to be a must-see event.
Now, not all of us are lucky enough to secure centre court seats, and I imagine like me, you will all be sat in front of the TV watching with cups of tea, so why not give a nod to the age-old Wimbledon traditions, and sit down and relax with a perfect cup of tea in this selection of strawberry themed mugs, maybe burning a Strawberry Buttercream Yankee Candle to really get in the spirit! – And if you are feeling inspired then we have the perfect mugs to help boost your tennis skills.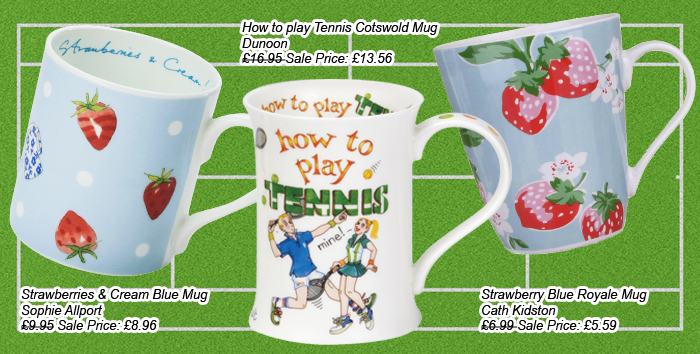 Or perhaps get in the party spirit with our great selection of GB themed items!
Good luck today, Andy!
Rebecca