It is with a very warm welcome and more than a little excitement that we at TemptationGifts welcome you to our beautiful new website!
It has taken months of planning, hard work and late nights, but we're delighted to finally share with you the new look site. The reason behind our evolution essentially stems from our core principle: to offer you, the customer, the best shopping experience we possibly can.
Don't get us wrong, we thought our old website did a pretty great job too, but there is always room for improvement. That's why we decided not to implement a radical overhaul of the site, but simply improve the shopping experience that was already in place, adding one or two new features that we think you're going to love. Evolution rather than revolution, to coin a phrase.
As well as introducing you to some of the site's new aspects, we hope this little blurb will reassure you that despite the changes, TemptationGifts is still very much the same site you know and (hopefully!) love. The products are still the same and you can still browse the site in the same way as before… We've simply had a bit of a face-lift and dusted off a few cogs and levers behind the scenes.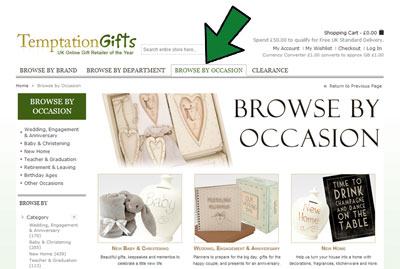 As well as browsing by brands, and departments, you can now explore products in our much improved occasion section. If you're buying a present for a particular event, for example a gift for a Christening or a new home, but don't have a clear idea of what you're looking for, our clever new sections will be able to offer you some great ideas.
We've also got an amazing new feature whereby you can search for items via specific attributes. For example, if you're looking for some hand and body lotion between a range of £10-£20, you can use the box on the left hand side of the page to search for exactly that. We know that sometimes the huge selection of products we have on here can be a little daunting, so we hope this will really help you out if you know what you're after.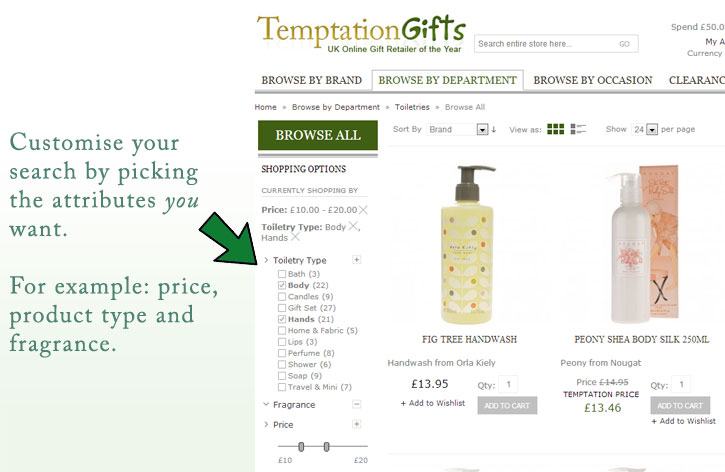 We've also tweaked the product layout of the site, meaning we can show you each item in more detail than ever before. This isn't just because we're proud and we like to show off our stock (although we do a little), but we also want to give you the most accurate representation possible of what you decide to purchase.
Not only do we have bigger pictures, but for certain items we now have fully rotational images. Those of you who keep up to date with Temptation goings on via our blog will know this already, but we've spent lots of time in our new photo studio photographing mugs and bags at every angle. This allows you to rotate the image a full 360 degrees, meaning nothing is left to the imagination and you can be supremely confident in the product you are buying.
Moreover, if you would like to know what someone else thought of a particular product, or leave your own comments, you can do so with our new product review feature. This allows for that extra certainty (if it was needed) that the item is what you expect it to be, and allows you to share your thoughts with us and the rest of our customers.
Whether you're a long-standing customer or this is your first experience of TemptationGifts, we hope you have fun exploring the new-look site. We're very proud of how everything's turned out, and are confident that you're going love it as much as we do!
The Temptation Team
*Although we've been working as hard as we possibly can to make sure everything is as perfect as can be, the sheer scale of the website means that we might have missed the odd sneaky gremlin here or there - we are only human after all!
If you spot anything that you think isn't working as it should be, or you feel as if your browsing experience isn't up to the high standards that TemptationGifts strive for, then please let us know right away and we can find a speedy solution. Email our customer service team at customerservice@temptationgifts.com if you have any queries.