It's National Biscuit Day!
Yes a day devoted the wonderful things that are biscuits. What's better than settling down with your afternoon cuppa and reaching into the biscuit tin to unearth your favourite biscuit ready for a dunking… or not!
We are a bunch of biscuit lovers here at Temptation Gifts HQ – you don't dare leave a packet open in the kitchen – they will all be gone with not even a sign of a crumb by the end of the day!
"What's your favourite biscuit and why?"
I asked the office;
Ola – Ginger Snaps! – Why? Because they are the best biscuits ever (that's non-negotiable!)! Especially when dunk in tea or left out to soften for a few days - heaven! Note to self: must buy a packet on the way back from work!
Anne – A chocolate digestive, plain or milk, doesn't matter, the combination of delicious chocolate with a wholemeal base is the biscuit equivalent of cheesecake to me. I try to avoid them, but my daughter keeps them in the fridge, with one end always open, so it's just a bit too easy to grab one!
Sara - Party Rings!!! - Who doesn't like recapturing their childhood with multi-coloured biscuity naughtiness (even when you're 30-something…..)
Lisa - Custard creams, Party Rings, Choc Chip Cookies, Shortbread… all scrummy!
Becca – I like the old school favourites that remind me of my childhood, Bourbons… Custard Creams... but Malted Milks might just top it – When I was younger I used to eat around them so that just the big cow was left – they were my fave!
David - Hobnobs! - Because they're hobbly and nobbly?
Bex - Chocolate digestive - You can't go wrong, whether it is to dunk in a cheeky cuppa, or just for the Mid-day Munchies.
Mike - Chocolate fingers! Utterly and totally mor-ish. Can't remember the last time I opened a box and didn't finish it in one go
Christian - Bourbon all the way!!
Pam – Chocolate Digestive Biscuits because they have chocolate on them! And she likes dunking them in her coffee!
Chris - Custard Creams - Brings back childhood memories
Callum - Custard creams - Perfect for a cuppa
Gabby- Fox's Crunch Creams- They are crunchy and creamy! - You couldn't ask for more
Sharon - Lemon puff - Sweet and sharp just like me!
Gemma - Chocolate bourbon- Because they are chocolate….
Gary - Dark chocolate digestive (with peanut butter)- just amazing
Jamie - Well mines a bit posh - (M&S) Extremely Chocolatey Dark Chocolate Rounds - More Chocolate than biscuit & the fact it's one of the few dark chocolate biscuits - What's not to like?!
Rob - Rich Tea! They go perfectly with a cup of their namesake!
What's your favourite biscuit?

A fun article from The Telegraph today - National biscuit day: what does your favourite biscuit say about you?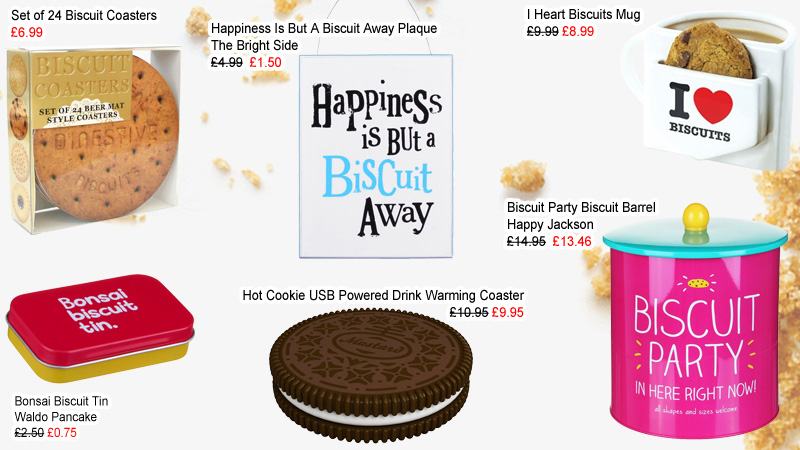 Remember to check out our Pinterest board for lots of biscuity goodness!
Rebecca