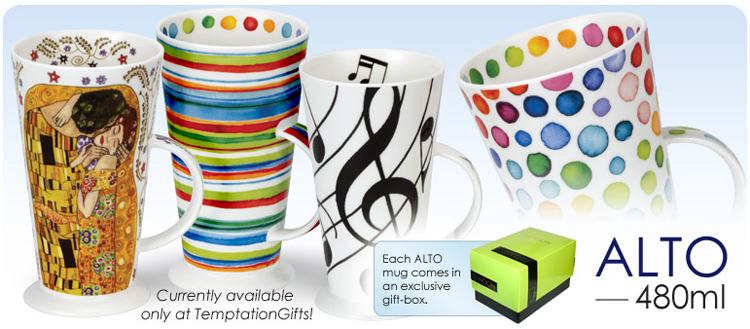 TemptationGifts has been trading with Dunoon Mugs for 30 years, and everyone involved is immensely proud of our longstanding collaboration.
One of the many things we love about Dunoon is their huge range and variety of mugs. Not only are there hundreds of designs in terms of image, but there are also multiple designs of actual mug shape, from the small and refined Jura mugs to the large and chunky Henley. It was only a matter of time until they brought out another new shape to expand their already impressive repertoire, and they have done so with their most contemporary creation yet.
Enter the Alto range. The Alto mug is exciting for many reasons, most of all because it is Dunoon's first mug specifically designed with coffee drinkers in mind. Perfect for sipping on a tall, hot latte, the sleek mug is in keeping with today's increasingly prevalent café culture.
Unlike all other Dunoon mugs it is made in three parts. Whereas other mugs have a separate handle but the body and the base are as one, this Alto mug has a distinctive base that forms a part of the mug's modern style.
Certain mugs in the range also come with 22 carat gold embellishment, while each and every Alto mug comes with a stylish green gift box.
We think the Alto range is going to be a huge success; who wouldn't want to enjoy a cup of fresh coffee from the comfort of your own home and via the contemporary elegance of the Alto range?!
Not only that, but temptationgifts.com is currently the only site online that are selling this fantastic new shape, a reflection of our Recommended Online Retailer status that we have in partnership with Dunoon.
Just click hereto browse all our fantastic new Alto mugs and join the coffee revolution!