Return to Previous Page
Details
Mini Notebooks (Set of 3)
Write down any thoughts, doodles, poems, lists, or anything else you can think of in this set of three mini notebooks.
Featuring the fun and colourful designs of Happy Jackson, each notebook features a distinctive colour and a funny remark on the front. They read: "OK, here's the plan...", "thinky thoughts" and "I love lists".
Small enough to carry around in a bag or pocket, they are perfect for writing on the go. Two of the notebooks contain lined paper, and the orange one contains plain paper. Each is approximately 48 pages.

Additional Information
| | |
| --- | --- |
| Product | Notebook |
| Material | Paper |
| Colour | Orange, Pink, Yellow |
| Height (cm) | 12.5 |
| Width (cm) | 8.5 |
Delivery
Within the UK
Standard delivery within the UK is charged at a rate of £3.99. Guaranteed, signed-for Next Day delivery is available for just £6.99.
Delivery Class
Delivery Time
Delivery Charge
Orders over

£49.99

Standard Delivery
Up to 5 working days

£3.99

FREE
Premium Delivery
1 - 3 days

£4.99

£1.00

Next Day Delivery
Next working day

£6.99

£3.00
Free UK shipping on Greeting Cards and Carrie Elspeth
Orders containing only Greeting Cards or Carrie Elspeth jewellery qualify for optional free delivery. These orders are sent using our Standard UK Delivery method. Please allow up to 5 days for delivery.
International Delivery
For international delivery, shipping price varies with spend. Fast, signed-for courier delivery by FedEx is also available to all international destinations.
North America
Order Value
Delivery Charge
Surcharge for FedEx
upto

£10.00

£7.99

+

£8.50

£10.01

-

£25.00

£9.99

+

£8.50

£25.01

-

£50.00

£16.99

+

£8.50

£50.01

-

£75.00

£29.99

NO SURCHARGE
over

£75.00

£39.99

NO SURCHARGE
Europe
For these purposes Europe includes Turkey, Eastern European countries, non-EU countries, and the Eurasian republics.


Order Value
Delivery Charge
Surcharge for FedEx
upto

£10.00

£4.99

+

£10.00

£10.01

-

£25.00

£7.99

+

£10.00

£25.01

-

£50.00

£9.99

+

£10.00

£50.01

-

£75.00

£12.99

+

£10.00

over

£75.00

£17.99

+

£10.00
Rest of World
Order Value
Delivery Charge
Surcharge for FedEx
upto

£10.00

£7.99

+

£14.50

£10.01

-

£25.00

£9.99

+

£14.50

£25.01

-

£50.00

£16.99

+

£14.50

£50.01

-

£75.00

£29.99

+

£14.50

over

£75.00

£39.99

+

£14.50

Extremely rarely, in the event of unusually heavy orders going to overseas destinations, these shipping tariffs will prove insufficient to cover our costs. In which case we will contact you and request that you pay a postage surcharge to equal our specific shipping costs for your order.
Should you choose not to pay that surcharge we will refund your payment in full and cancel your order. Should we receive no reply to this request we will hold your order for seven days and then refund your payment in full and cancel your order.
Returns
If you would like to return an unwanted or damaged item back to us please inform our customer service team at customerservice@temptationgifts.com or 01494 790424 within 14 days of receiving the goods.

You will be asked to send the item back to us at the address below.

Temptation Gifts
Unit 2E
Woodlands Farm
The Vale
Chesham
Bucks
HP5 3NS

If the product has been damaged or received incorrectly you can download a free returns label to use however please inform the customer services team before doing so. If however you have decided to return an item as it is unwanted please send this back to us at your expense, keeping a proof of postage.
Please ensure they are returned in perfect condition and packaged securely, because you will only be eligible for a refund or replacement once we have received the goods and confirmed they are in a re-saleable condition.

In order to process your return please include the following information:

Your order number
- If you need a replacement or refund
- The reason for the return
- If the item is faulty please include exactly where the fault is on the item

All returns are processed within five working days of them being received and we will send you an email when we have processed your return and inform you of any refunds that have been processed. Please allow 1-5 working days for refunds to be processed back into your account.
For more information, please go to our Terms and Conditions page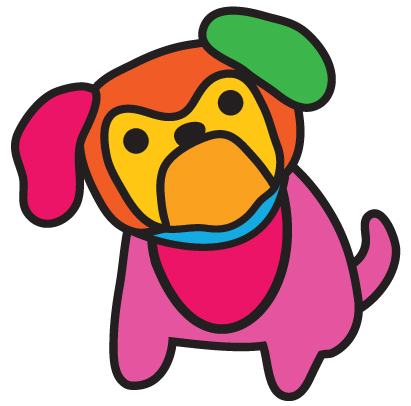 Happy Jackson was born in some of the most humble of beginnings imaginable. Creator Giles Andreae (Britain's best selling poet) sent his long-time collaborator Heather Flynn (a former Art Director at Hallmark Cards) a simple sketch of a pug dog. Whilst it may not have been quite the finished article, it had bags of character and fun.
They both saw the beginnings of something larger starting to take shape. This simple little pug inspired the style and feel of their new brand, characterised by bold colour choices, playful design and, naturally, Giles' curt and witty words and phrases to further bring it all to life.
And so we have Happy Jackson. Something that brings its own distinctive and playful swagger to the table. Happy Jackson is youthful, design-led, and perhaps most importantly, doesn't take itself too seriously. So whether it's a silly greeting card, a funny cake tin or a colourful notebook, we're certain this exciting range will put a smile on your face and a spring in your step.
We're super proud and super happy that Happy Jackson have named TemptationGifts as their recommended online retailer, meaning you're in the best hands possible! To read more about our partnership with them, just click here.