Return to Previous Page
Home Sweet Home Pack of 12 Tealights
Bring refreshment and relaxing aromas to your home with this pack of tealights from Yankee Candle..
Crisp gingham curtains are fluttering in a warm breeze and a freshly baked fruit pie is cooling on the window sill. The oven is still hot after a batch of baking and the air is filled with the fragrance of cinnamon and spices. The kettle has just boiled and a pot of tea is brewing. The heart-warming scents of home are invoked by this Yankee candle which has the pinkish purple colour of lightly simmered rhubarb and apple.
This pack of twelve scented tea light candles has a burn time between 4-6 hours per light. Perfect for use all around the home and garden, these tealights work brilliantly as a set or scattered around on their own, releasing their delicate fragrance as they burn.
A fabulous gift for a friend or a treat for yourself.

Additional Information
| | |
| --- | --- |
| Brand | Yankee Candle |
| Product | Candle |
| Colour | Purple |
| Height (cm) | 6 |
| Length (cm) | 8 |
| Width (cm) | 8 |
| Special Features | Boxed |
Delivery
Within the UK
Standard delivery within the UK is charged at a rate of £3.99. Guaranteed, signed-for Courier delivery is available for just £6.99.
Delivery Class
Delivery Time
Delivery Charge
Orders over

£50.00

Standard Delivery
Up to 5 working days

£3.99

FREE*
Premium Delivery
1 - 3 days

£4.99

£1.00

Courier Delivery - Order by 3pm
Next working day

£6.99

£3.00
*PLEASE NOTE: Certain items are excluded from our Free UK Delivery offer. These items are clearly indicated within their product description and within the checkout process.
Personalised Gifts
Many Personalised gifts are excluded from our Free UK Delivery offer as they are packaged and dispatched from a separate location. Personalised items may take longer than our standard delivery times, and Premium or Courier delivery may not be available. This information will be clearly indicated on the affected items.
Free UK shipping on Carrie Elspeth
Orders containing only Carrie Elspeth jewellery qualify for optional Free UK Delivery. These orders are sent using our Standard UK Delivery method. Please allow up to 5 days for delivery.
£0.75 Shipping on Greeting Cards
Orders containing only greeting cards qualify for special 75p delivery. These orders are sent using our Standard UK Delivery method. Please allow up to 5 days for delivery.
International Delivery
For international delivery, shipping price varies with spend. Fast, signed-for courier delivery by FedEx is also available to all international destinations.
North America
Order Value
Delivery Charge
Surcharge for FedEx
up to

£10.00

£7.99

+

£8.50

£10.01

-

£25.00

£9.99

+

£8.50

£25.01

-

£50.00

£16.99

+

£8.50

£50.01

-

£75.00

£29.99

NO SURCHARGE
over

£75.00

£39.99

NO SURCHARGE
Europe
For these purposes Europe includes Turkey, Eastern European countries, non-EU countries, and the Eurasian republics.


Order Value
Delivery Charge
Surcharge for FedEx
up to

£10.00

£4.99

+

£10.00

£10.01

-

£25.00

£7.99

+

£10.00

£25.01

-

£50.00

£9.99

+

£10.00

£50.01

-

£75.00

£12.99

+

£10.00

over

£75.00

£17.99

+

£10.00
Rest of World
Order Value
Delivery Charge
Surcharge for FedEx
up to

£10.00

£7.99

+

£14.50

£10.01

-

£25.00

£9.99

+

£14.50

£25.01

-

£50.00

£16.99

+

£14.50

£50.01

-

£75.00

£29.99

+

£14.50

over

£75.00

£39.99

+£14.50


Extremely rarely, in the event of unusually heavy orders going to overseas destinations, these shipping tariffs will prove insufficient to cover our costs. In which case we will contact you and request that you pay a postage surcharge to equal our specific shipping costs for your order.
Should you choose not to pay that surcharge we will refund your payment in full and cancel your order. Should we receive no reply to this request we will hold your order for seven days and then refund your payment in full and cancel your order.
Returns Policy
If you would like to return an unwanted or damaged item back to us please inform our customer service team at customerservice@temptationgifts.com or 01494 790424 within 14 days of receiving the goods.

You will be asked to send the item back to us at the address below.

Temptation Gifts
Unit 2E
Woodlands Farm
The Vale
Chesham
Bucks
HP5 3NS

If the product has been damaged or received incorrectly you can give our customer service a call or email us to request a prepaid returns label to use. If however you have decided to return an item as it is unwanted please send this back to us at your expense, keeping a proof of postage.
Please ensure they are returned in perfect condition and packaged securely, because you will only be eligible for a refund or replacement once we have received the goods and confirmed they are in a re-saleable condition.

In order to process your return please include the following information:

Your order number
- If you need a replacement or refund
- The reason for the return
- If the item is faulty please include exactly where the fault is on the item

All returns are processed within five working days of them being received and we will send you an email when we have processed your return and inform you of any refunds that have been processed. Please allow 1-5 working days for refunds to be processed back into your account.
For more information, please go to our Terms and Conditions page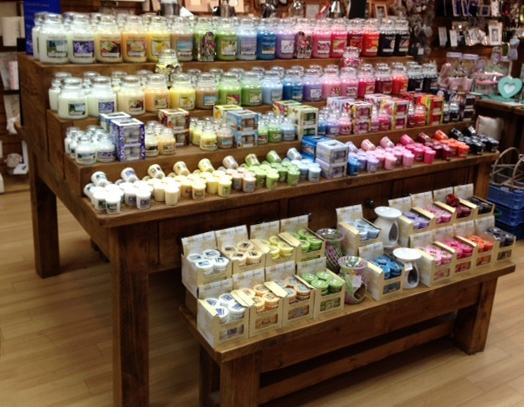 Yankee Candle is the largest and most reputed candle maker in the world. They have been making premium candles for over 40 years and are renowned throughout the globe for their huge range of scents and different styles of candle.
Like even the biggest of companies, however, Yankee Candle started in the most humble of circumstances...
It was Christmas, 1969, and a seventeen year old Mike Kittredge couldn't afford to buy his mother a present. Instead, he melted some crayons to make her a candle. A neighbour saw the candle and convinced Mike to sell it to her, and with that money he bought enough wax to make two more candles. One went to his mother, and the other was sold elsewhere. This was the birth of Yankee Candle.
Their headquarters remain in their birthplace: Massachusetts, USA, and they have over 500 company-owned retail stores throughout the United States alone. With over 150 fragrances of candle, the best of which can be found online here, they are truly passionate about what they do.
There's a reason Yankee have become so successful throughout the world, and it's a simple one: their passion for the highest quality of fragrance. Yankee's craftsmanship is passed down through their generations of chandlers (candle makers) as part of their heritage, who continue to create the highest quality product, as well as rigorously test and review any fragrance that passes their noses.
Yankee Candle also has a long-standing commitment to sustainability, promoting socially responsible practises to ensure that their candles can continue to be enjoyed for generations to come.
Whether packs of tea lights, car fragrances or elegant tumbler candles in glass jars, there is a style, and a fragrance for everyone. Yankee continue to release more products and more fragrances, meaning they are always at the forefront of what they do. So why not become a part of the phenomenon and let a little more light into your world!