Return to Previous Page
Special Offer on Disaster Designs
FREE Standard Delivery on all orders containing only Disaster Designs products (UK only)!
Disaster Designs Penny Black Handbag
Accessorising an outfit is the key to creating an overall stylish look, with the right bag making or breaking the finishing look. This Penny Black Handbag is sure to be that right decision, no matter the outfit or occasion, with its bright and colourful tones and subtle flower designs.
Petite in its nature, this handbag is rectangular in shape offering a magnetic flap close styling. The exterior of the bag features a cream and light turquoise colour scheme, with the block use of colour adorned with beautiful black prints of faded flowers and leaves. This design surrounds an oval centre plaque which covers the magnetic close, and features the following text;
'Something good is going to happen'
This text features in a mixture of white quirky fonts and a detailed copper foil font. The exterior of the bag is stylishly finished off with leather look brown shoulder strap which is usefully adjustable to ensure is suits for every occasion.
The interior is revealed through the lifting of the front flap and opening of the white zip-close top of the bag, ensuring your essentials and personal items are kept safe and secure. The inner flap of the bag is strikingly patterned with white and black shapes in a striped monochrome formation, with rose gold plated buttons as detail. The interior lining of the bag continues the turquoise colour scheme of the exterior, housing a handy mobile phone pocket with a secure zip-close to keep such items as loose change and emergency lipstick within!
This Penny Black Handbag from Disaster Designs would make the ideal accessory as an everyday handbag, whilst also working as a subtle night bag for more formal occasions.
Penny Black Range
Combining vintage styled black printed illustrations and intricate copper foil detailing, this quirky range from Disaster Designs focuses its designs around everyday activities and objects and matches them with positive phrases and text to ensure this range of bags and accessories lightens up everyone's day! This Penny Black range would be the perfect range for the modern day women to use throughout her daily life, creating a smile and laugh along the way!

Additional Information
| | |
| --- | --- |
| Brand | Disaster Designs |
| Product | Bag |
| Material | Canvas |
| Colour | Cream, Turquoise |
| Height (cm) | 17 |
| Width (cm) | 26 |
| Depth (cm) | 7 |
Delivery
Within the UK
Standard delivery within the UK is charged at a rate of £3.99. Guaranteed, signed-for Courier delivery is available for just £6.99.
Delivery Class
Delivery Time
Delivery Charge
Orders over

£50.00

Standard Delivery
Up to 5 working days

£3.99

FREE*
Premium Delivery
1 - 3 days

£4.99

£1.00

Courier Delivery - Order by 3pm
Next working day

£6.99

£3.00
*PLEASE NOTE: Certain items are excluded from our Free UK Delivery offer. These items are clearly indicated within their product description and within the checkout process.
Personalised Gifts
Many Personalised gifts are excluded from our Free UK Delivery offer as they are packaged and dispatched from a separate location. Personalised items may take longer than our standard delivery times, and Premium or Courier delivery may not be available. This information will be clearly indicated on the affected items.
Free UK shipping on Carrie Elspeth
Orders containing only Carrie Elspeth jewellery qualify for optional Free UK Delivery. These orders are sent using our Standard UK Delivery method. Please allow up to 5 days for delivery.
£0.75 Shipping on Greeting Cards
Orders containing only greeting cards qualify for special 75p delivery. These orders are sent using our Standard UK Delivery method. Please allow up to 5 days for delivery.
International Delivery
For international delivery, shipping price varies with spend. Fast, signed-for courier delivery by FedEx is also available to all international destinations.
North America
| | | |
| --- | --- | --- |
| Order Value | Standard Airmail Price | FedEx Delivery Price |
| upto £10.00 | £7.99 | £16.49 |
| £10.01 - £25.00 | £9.99 | £18.49 |
| £25.01 - £50.00 | £16.99 | £25.49 |
| £50.01 - £75.00 | Not Available | £29.99 |
| £75.01-£100.00 | Not Available | £39.99 |
| Over £100.00 | Not Available | £49.99 |
Europe
For these purposes Europe includes Turkey, Eastern European countries, non-EU countries, and the Eurasian republics.
| | | |
| --- | --- | --- |
| Order Value | Standard Airmail Price | FedEx Delivery Price |
| upto £10.00 | £4.99 | £14.99 |
| £10.01 - £25.00 | £7.99 | £17.99 |
| £25.01 - £50.00 | £9.99 | £19.99 |
| £50.01 - £75.00 | £12.99 | £22.99 |
| £75.01 - £100.00 | £17.99 | £27.99 |
| Over £100.00 | Not Available | £34.99 |
Rest of World
| | | |
| --- | --- | --- |
| Order Value | Standard Airmail Price | FedEx Delivery Price |
| upto £10.00 | £7.99 | £22.49 |
| £10.01 - £25.00 | £9.99 | £24.49 |
| £25.01 - £50.00 | £16.99 | £31.49 |
| £50.01 - £75.00 | £29.99 | £44.49 |
| £75.01 - £100.00 | £39.99 | £54.49 |
| Over £100.00 | Not Available | £64.49 |

Extremely rarely, in the event of unusually heavy orders going to overseas destinations, these shipping tariffs will prove insufficient to cover our costs. In which case we will contact you and request that you pay a postage surcharge to equal our specific shipping costs for your order.
Should you choose not to pay that surcharge we will refund your payment in full and cancel your order. Should we receive no reply to this request we will hold your order for seven days and then refund your payment in full and cancel your order.
Returns Policy
If you would like to return an unwanted or damaged item back to us please inform our customer service team at customerservice@temptationgifts.com or 01494 790424 within 14 days of receiving the goods.

You will be asked to send the item back to us at the address below.

Temptation Gifts
Unit 2E
Woodlands Farm
The Vale
Chesham
Bucks
HP5 3NS

If the product has been damaged or received incorrectly you can give our customer service a call or email us to request a prepaid returns label to use. If however you have decided to return an item as it is unwanted please send this back to us at your expense, keeping a proof of postage.
Please ensure they are returned in perfect condition and packaged securely, because you will only be eligible for a refund or replacement once we have received the goods and confirmed they are in a re-saleable condition.

In order to process your return please include the following information:

Your order number
- If you need a replacement or refund
- The reason for the return
- If the item is faulty please include exactly where the fault is on the item

All returns are processed within five working days of them being received and we will send you an email when we have processed your return and inform you of any refunds that have been processed. Please allow 1-5 working days for refunds to be processed back into your account.
For more information, please go to our Terms and Conditions page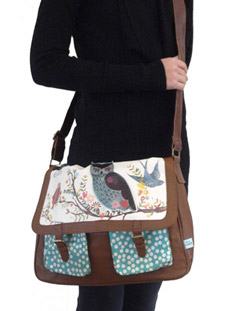 Welcome to the fashion world of Disaster Designs - the company behind best-selling ranges like Paper Plane, Dandy and Songbird.
With over 20 years of textile design experience, Disaster Designs never fail to come up with new, funky and simply gorgeous bags and fashion accessories. You can now enjoy a wide selection of their most popular ranges, including brand new additions to 2013.
Born in the summer of 89 in a haze of tie dye and a tangle of dream catchers, Disaster has reinvented itself through the trends and fads of the last 20 plus years, defining itself always as a lover of quirky and unusual things.
Always true to the current trends and fashion must-haves, each collection from Disaster Designs is unique, decorative and aimed at stressing one's individuality. With designs ranging from vintage inspired Paper Plane & Dandy, through the elegant Songbird to the completely distinctive Hola range, you are sure to find something you'll love and show off whenever you're out and about.