Return to Previous Page
The Man Behind the Pancake:
An Interview with Jim Smith
Waldo Pancake is known to many as the eponymous character behind a quirky and sarcastic range of giftware and accessories. Greeting cards, stationery and all sorts of kitchen and homeware bear the Waldo Pancake brand, but what of the man behind the pancake?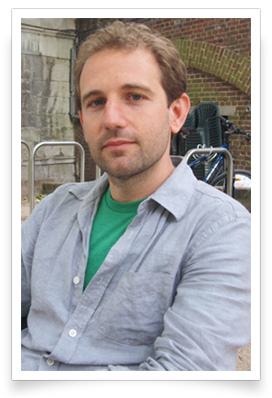 Jim Smith (Photo: Sharon F. Jones)
Jim Smith is the author, illustrator, artist and creator behind the bold colours and bubbly writing of Waldo. After completing University, Jim landed a role as the in-house designer at Puccino's Coffee shops. 15 years on and he remains their designer, creating wall art, sardonic cups, napkins and sachet designs with an idiosyncratic flair and tongue firmly in cheek.
He has also turned his hand to children's books (though many adults would claim them to be just as suitable for their own consumption), creating the popular Barry Loser series.
His most enduring work remains the Waldo Pancake range, and he was kind enough to allow us some time together and give us just about the weirdest interview we've ever had! So if you'd like to discover more about bald men and an apple selling granny, just keep reading...
What product would you most like to add to the range and why? A can of Waldo Pancake Cola. This is because when I was a kid I collected soft drink cans like a massive loser.
Is there anything you would not be able to be sarcastic about? Nice question.
What would you be doing today if you hadn't become an artist? I was in Spain and I bought some peeled prickly pears from an old granny on the street. I quite fancy that job.
How did you end up choosing the name "Waldo Pancake"? I'd been trying to think of a name for myself when one day I went for a stroll with a pad and a PEN and a COKE. Suddenly I smacked into a WALL, doing a 'DOH' like Homer then collapsing to the pavement. When I awoke an old granny was poking me with her stick. "What's your name?" she said. "WALL-DOH PEN-COKE" I said, which was all I could remember of my former life. That was it! Walldoh Pencoke! I rushed home to register the domain name but it was already taken. "What am I going to do?" I said. "What about Waldo Pancake?" said the granny.
What really gets your creative juices flowing? They're always flowing. I'm on the lookout for something that'll stop them.
If you could turn into one of your products for a day, which one would it be and why? The ruler that is a comb for a bald man. Oh to be scraped across a pate like a snowboard, dead skin cells accumulating like so much snow.
What's the most insane thing you've done whilst at work? I used to make wooden cut-outs to go on the walls of Puccino's coffee shops. One day I made a twelve foot tall man to go in the Richmond train station cafe. I hung him on the wall with a single nail above a granny on a sofa. That night I had a terrible dream that the granny was flattened, me going to jail for it. The next day I rushed back and rehung it with more nails, putting a stop to the insanity once and for all.
What's the most insane thing you've done outside of work? The other day I put my pants in the socks drawer by accident and I left them there.
Where do you see yourself in 5 years? Sitting somewhere wishing it was five years ago.
Do the stories on your website and in your books relate to your actual life experiences? It's a one million percent yes from me.
If you'd like to continue browsing our brilliant range of Waldo Pancake gifts, just follow the links at the top of the page!