Return to Previous Page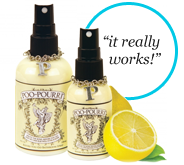 There's nothing worse than a smelly bathroom. Especially when you're the guilty one inside, frantically trying to mask the odours before someone catches wind of what's just happened. If only there was a way to live a life free from bathroom shame ...well now there is! With Poo-Pourri, the before-you-go toilet spray, you can leave the toilet smelling better than you found it!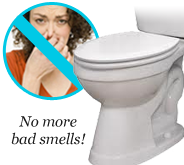 With a bottle of Poo-Pourri in your bag, you can forever be free from awkwardness and social embarrassment, whether at work, at a partner's house, at a party or any number of other situations where you've just got to go! Poo-Pourri provides a classy, sassy and ultra effective solution to a problem faced by millions on a daily basis, and it really works! (yes, even for men!)
Browse All Poo~Pourri Before You Go Toilet Sprays:
How Poo-Pourri works Shop Now
Poo-Pourri has it covered. Literally. Made with essential oils and other natural compounds, this revolutionary product works by forming a film on the surface of the water, coating anything that enters and trapping in the smell. Simply spray Poo-Pourri into the bowl before you go. When you flush, it further releases the product's fragrance, leaving the bathroom smelling better than you found it! It makes perfect 'scents'!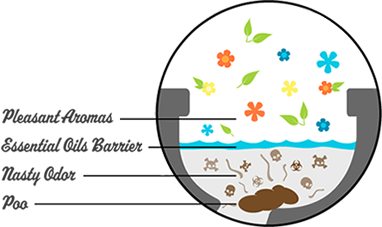 * NO Harsh Chemicals * NO Parabens * NO Phthalates * NO Aerosol * NO Formaldehyde * NO Ethanol * NO Benzene *
Watch the Poo-Pourri Video! Shop Now
Poo-Pourri launched with a straight-talking internet campaign "Girls Don't Poop" that got everyone talking and giggling all around the world! Featuring a potty-mouth posh lady sitting on a toilet, it has managed to attract almost 364,020 shares and 5.2 million views on YouTube in just over a week! If you want to see what it's all about, watch the video below. Warning: Toilet humour in use!
Want to learn more about Poo-Pourri? Shop Now
If you would like to learn more about Poo-Pourri, it's history, its phenomenal reception in the US and more, go to our 'About Poo-Pourri' page. And if you have any extra questions, check out the Frequently Asked Questions page to fill you in!
With a bottle of Poo-Pourri in the toilet, even the biggest "offenders" come out of it smelling of roses, so why not introduce this simple "miracle product" to high-traffic toilets? Whether it's a toilet in a college, theatre, music venue, cinema, wedding reception or football stadium, people should be able to do their business, without it being anybody else's business! For information about bulk purchases, click the link below.
About Poo-Pourri
FAQs
Reviews
Buying in Bulk?