Return to Previous Page
Details
Recipe Journal in the Sampler Range

Add a sprinkle of elegance to your everyday cooking or make a gift of your best recipes to someone special with this beautiful recipe journal from Emma Bridgewater's Sampler range. The hardback covers feature spongeware pattern of red and pink hearts. with words Love running along the center. The inside cover is burgundy and features cook's conversion chart. The journal is free-standing and has 6 sections in which to record recipes for general dishes, starters, fish, meat, vegetables and finally, puddings. Each section has cellophane pockets which you can fill with recipes written on recipe card pad provided. The journal is wire bound for easy use. It has a red elastic strap for fastening, if you wish to keep it in in a drawer or on a shelf when not in use.

The pad has 20 recipe cards.

Sampler Range
Inspired by Emma Bridgewater's collection of Victorian spongeware, Sampler is a heart-warming range of stationery, bags and ceramics full of pink, bold patterns resebling the best sampler needlework.

Additional Information
| | |
| --- | --- |
| Product | Scrap Book |
| Colour | Pink, Red |
| Height (cm) | 25 |
| Width (cm) | 24 |
Delivery
Within the UK
Standard delivery within the UK is charged at a rate of £3.99. Guaranteed, signed-for Next Day delivery is available for just £6.99.
Delivery Class
Delivery Time
Delivery Charge
Orders over

£49.99

Standard Delivery
Up to 5 working days

£3.99

FREE
Premium Delivery
1 - 3 days

£4.99

£1.00

Next Day Delivery
Next working day

£6.99

£3.00
Free UK shipping on Greeting Cards and Carrie Elspeth
Orders containing only Greeting Cards or Carrie Elspeth jewellery qualify for optional free delivery. These orders are sent using our Standard UK Delivery method. Please allow up to 5 days for delivery.
International Delivery
For international delivery, shipping price varies with spend. Fast, signed-for courier delivery by FedEx is also available to all international destinations.
North America
Order Value
Delivery Charge
Surcharge for FedEx
upto

£10.00

£7.99

+

£8.50

£10.01

-

£25.00

£9.99

+

£8.50

£25.01

-

£50.00

£16.99

+

£8.50

£50.01

-

£75.00

£29.99

NO SURCHARGE
over

£75.00

£39.99

NO SURCHARGE
Europe
For these purposes Europe includes Turkey, Eastern European countries, non-EU countries, and the Eurasian republics.


Order Value
Delivery Charge
Surcharge for FedEx
upto

£10.00

£4.99

+

£10.00

£10.01

-

£25.00

£7.99

+

£10.00

£25.01

-

£50.00

£9.99

+

£10.00

£50.01

-

£75.00

£12.99

+

£10.00

over

£75.00

£17.99

+

£10.00
Rest of World
Order Value
Delivery Charge
Surcharge for FedEx
upto

£10.00

£7.99

+

£14.50

£10.01

-

£25.00

£9.99

+

£14.50

£25.01

-

£50.00

£16.99

+

£14.50

£50.01

-

£75.00

£29.99

+

£14.50

over

£75.00

£39.99

+

£14.50

Extremely rarely, in the event of unusually heavy orders going to overseas destinations, these shipping tariffs will prove insufficient to cover our costs. In which case we will contact you and request that you pay a postage surcharge to equal our specific shipping costs for your order.
Should you choose not to pay that surcharge we will refund your payment in full and cancel your order. Should we receive no reply to this request we will hold your order for seven days and then refund your payment in full and cancel your order.
Returns
If you would like to return an unwanted or damaged item back to us please inform our customer service team at customerservice@temptationgifts.com or 01494 790424 within 14 days of receiving the goods.

You will be asked to send the item back to us at the address below.

Temptation Gifts
Unit 2E
Woodlands Farm
The Vale
Chesham
Bucks
HP5 3NS

If the product has been damaged or received incorrectly you can download a free returns label to use however please inform the customer services team before doing so. If however you have decided to return an item as it is unwanted please send this back to us at your expense, keeping a proof of postage.
Please ensure they are returned in perfect condition and packaged securely, because you will only be eligible for a refund or replacement once we have received the goods and confirmed they are in a re-saleable condition.

In order to process your return please include the following information:

Your order number
- If you need a replacement or refund
- The reason for the return
- If the item is faulty please include exactly where the fault is on the item

All returns are processed within five working days of them being received and we will send you an email when we have processed your return and inform you of any refunds that have been processed. Please allow 1-5 working days for refunds to be processed back into your account.
For more information, please go to our Terms and Conditions page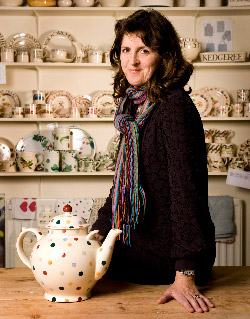 Emma Bridgewater is a brand that captures the imagination. It features iconic designs based on simple, uncomplicated elegance that are fresh and original, yet true classics as the same time.
Established in Stoke over 25 years ago, Emma's thirst for creative design has led to an expansion from her range of pottery to a huge variety of different products, all of which are intended for everyday use.
The company was born in 1985 when Emma, seeking a simple cup and saucer, found the options lacking. The choice seemed to be either much-too-formal fine bone china, or clunky earthenware. It was the need for a middle ground that propelled Emma to create her own range: practical and reliable pottery but with a colourful and stylish design worthy of any kitchen.
Working together with her husband, Matthew Rice, Emma Bridgewater has created a multitude of recognisable designs, from the Black Toast range to the Polka Dot and Starry Skies ranges, all of them as collectable as each other. These fashionable creations have earned her many enthusiasts, and we're proud to say that TemptationGifts is one of them!