Return to Previous Page
Details
Your Inner Pasta

If you secretly dream of saving the world, why not start with saving your kitchen worktop (just a thought...)? Be a hero in your own kitchen and protect your surfaces from hot pots and stains! This FABULOUS worktop protector is made of tempered glass and is heat resistant (up to 160 C) as well as resistant to stains and odours. The smooth glass surface makes it very easy to clean and no BAD bacteria will hang out there for long.
Everyone has an Inner Pasta that
defines their very Being. EMBRACE
your Inner Pasta and you will always
be HAPPY.

straight, narrow-minded, predictable spaghetti
curly-wurly, never-knows-the-time-of-day fusilli
showy, bowy, ooh-look-at-me-aren't-I-wonderful farfalle
flat, floppy, yeah-whatever, can't-be-bothered tagliatelle
large, thick (and ultimately stuffed) cannelloni
Do-what-you-want-to-me-then-cover-me-with-cheese macaroni

As a part of Edward Monkton Kitchen Essentials range, it is designed to bring JOY and happiness to your kitchen (needless to say, no happy kitchen can do without it!). Alternatively, you can give this fantastic kitchen accessory to one of your friends and spead the joy!



Additional Information
| | |
| --- | --- |
| Product | Chopping Board |
| Material | Glass |
| Length (cm) | 30 |
| Width (cm) | 40 |
Delivery
Within the UK
Standard delivery within the UK is charged at a rate of £3.99. Guaranteed, signed-for Next Day delivery is available for just £6.99.
Delivery Class
Delivery Time
Delivery Charge
Orders over

£49.99

Standard Delivery
Up to 5 working days

£3.99

FREE
Premium Delivery
1 - 3 days

£4.99

£1.00

Next Day Delivery
Next working day

£6.99

£3.00
Free UK shipping on Greeting Cards and Carrie Elspeth
Orders containing only Greeting Cards or Carrie Elspeth jewellery qualify for optional free delivery. These orders are sent using our Standard UK Delivery method. Please allow up to 5 days for delivery.
International Delivery
For international delivery, shipping price varies with spend. Fast, signed-for courier delivery by FedEx is also available to all international destinations.
North America
Order Value
Delivery Charge
Surcharge for FedEx
upto

£10.00

£7.99

+

£8.50

£10.01

-

£25.00

£9.99

+

£8.50

£25.01

-

£50.00

£16.99

+

£8.50

£50.01

-

£75.00

£29.99

NO SURCHARGE
over

£75.00

£39.99

NO SURCHARGE
Europe
For these purposes Europe includes Turkey, Eastern European countries, non-EU countries, and the Eurasian republics.


Order Value
Delivery Charge
Surcharge for FedEx
upto

£10.00

£4.99

+

£10.00

£10.01

-

£25.00

£7.99

+

£10.00

£25.01

-

£50.00

£9.99

+

£10.00

£50.01

-

£75.00

£12.99

+

£10.00

over

£75.00

£17.99

+

£10.00
Rest of World
Order Value
Delivery Charge
Surcharge for FedEx
upto

£10.00

£7.99

+

£14.50

£10.01

-

£25.00

£9.99

+

£14.50

£25.01

-

£50.00

£16.99

+

£14.50

£50.01

-

£75.00

£29.99

+

£14.50

over

£75.00

£39.99

+

£14.50

Extremely rarely, in the event of unusually heavy orders going to overseas destinations, these shipping tariffs will prove insufficient to cover our costs. In which case we will contact you and request that you pay a postage surcharge to equal our specific shipping costs for your order.
Should you choose not to pay that surcharge we will refund your payment in full and cancel your order. Should we receive no reply to this request we will hold your order for seven days and then refund your payment in full and cancel your order.
Returns
If you would like to return an unwanted or damaged item back to us please inform our customer service team at customerservice@temptationgifts.com or 01494 790424 within 14 days of receiving the goods.

You will be asked to send the item back to us at the address below.

Temptation Gifts
Unit 2E
Woodlands Farm
The Vale
Chesham
Bucks
HP5 3NS

If the product has been damaged or received incorrectly you can download a free returns label to use however please inform the customer services team before doing so. If however you have decided to return an item as it is unwanted please send this back to us at your expense, keeping a proof of postage.
Please ensure they are returned in perfect condition and packaged securely, because you will only be eligible for a refund or replacement once we have received the goods and confirmed they are in a re-saleable condition.

In order to process your return please include the following information:

Your order number
- If you need a replacement or refund
- The reason for the return
- If the item is faulty please include exactly where the fault is on the item

All returns are processed within five working days of them being received and we will send you an email when we have processed your return and inform you of any refunds that have been processed. Please allow 1-5 working days for refunds to be processed back into your account.
For more information, please go to our Terms and Conditions page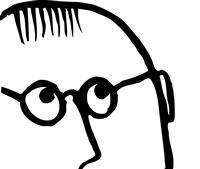 Poet, artist, philosopher and general interesting fellow, we're pretty big fans of Edward Monkton.

From humble beginnings on a few greetings cards, Edward Monkton designs can now be found on everything from mugs and keyrings to phone charms, cuddly toys and even underwear!
Created by Giles Andreae, Edward Monkton is one of those peculiarly loveable characters who is instantly recognisable, despite the fact that Monkton himself doesn't often appear on the designs. Instead, we are treated to his Interesting Thoughts that meander between the whimsical, the truthful, and the outright hilarious.
His creations include the Penguin of Death, the Pig of Happiness and the Teapot of Destiny, and the distinctive illustrations are always accompanied by a funny thought or poem. Invest in a couple of products and we're certain you'll soon be seeing things the Monkton way too!