Return to Previous Page
Details
Set of Flags - Live Love Laugh
Make your birthday, home party or family gathering a bit more special with this set of 16 "Live, Love, Laugh" mini flags, ideal for decorating the table and sharing with friends.
Each flag in the set is made of cream card and is attached to a wooden staff.

Not suitable for food use.
Size: 10cm x 6cm (box)

East of India
There's something a bit special about East of India.
It's the personal touch.

Every East of India gift has been hand-made or hand-finished by skilled artisans based in workshops around the world. They use traditional methods and natural materials so the products feel as good in your hand as they look on your screen.

No two East of India products are ever exactly alike, and in this world of the mass-produced and the computer-generated, that's what makes them so special.


Additional Information
| | |
| --- | --- |
| Product | Flag |
| Material | Card |
Delivery
Within the UK
Standard delivery within the UK is charged at a rate of £3.99. Guaranteed, signed-for Next Day delivery is available for just £6.99.
Delivery Class
Delivery Time
Delivery Charge
Orders over

£49.99

Standard Delivery
Up to 5 working days

£3.99

FREE
Premium Delivery
1 - 3 days

£4.99

£1.00

Next Day Delivery
Next working day

£6.99

£3.00
Free UK shipping on Carrie Elspeth
Orders containing only Carrie Elspeth jewellery qualify for optional free delivery. These orders are sent using our Standard UK Delivery method. Please allow up to 5 days for delivery.
£0.75 Shipping on Greeting Cards
Orders containing only greeting cards qualify for special 75p delivery. These orders are sent using our Standard UK Delivery method. Please allow up to 5 days for delivery.
International Delivery
For international delivery, shipping price varies with spend. Fast, signed-for courier delivery by FedEx is also available to all international destinations.
North America
Order Value
Delivery Charge
Surcharge for FedEx
upto

£10.00

£7.99

+

£8.50

£10.01

-

£25.00

£9.99

+

£8.50

£25.01

-

£50.00

£16.99

+

£8.50

£50.01

-

£75.00

£29.99

NO SURCHARGE
over

£75.00

£39.99

NO SURCHARGE
Europe
For these purposes Europe includes Turkey, Eastern European countries, non-EU countries, and the Eurasian republics.


Order Value
Delivery Charge
Surcharge for FedEx
upto

£10.00

£4.99

+

£10.00

£10.01

-

£25.00

£7.99

+

£10.00

£25.01

-

£50.00

£9.99

+

£10.00

£50.01

-

£75.00

£12.99

+

£10.00

over

£75.00

£17.99

+

£10.00
Rest of World
Order Value
Delivery Charge
Surcharge for FedEx
upto

£10.00

£7.99

+

£14.50

£10.01

-

£25.00

£9.99

+

£14.50

£25.01

-

£50.00

£16.99

+

£14.50

£50.01

-

£75.00

£29.99

+

£14.50

over

£75.00

£39.99

+

£14.50

Extremely rarely, in the event of unusually heavy orders going to overseas destinations, these shipping tariffs will prove insufficient to cover our costs. In which case we will contact you and request that you pay a postage surcharge to equal our specific shipping costs for your order.
Should you choose not to pay that surcharge we will refund your payment in full and cancel your order. Should we receive no reply to this request we will hold your order for seven days and then refund your payment in full and cancel your order.
Returns
If you would like to return an unwanted or damaged item back to us please inform our customer service team at customerservice@temptationgifts.com or 01494 790424 within 14 days of receiving the goods.

You will be asked to send the item back to us at the address below.

Temptation Gifts
Unit 2E
Woodlands Farm
The Vale
Chesham
Bucks
HP5 3NS

If the product has been damaged or received incorrectly you can download a free returns label to use however please inform the customer services team before doing so. If however you have decided to return an item as it is unwanted please send this back to us at your expense, keeping a proof of postage.
Please ensure they are returned in perfect condition and packaged securely, because you will only be eligible for a refund or replacement once we have received the goods and confirmed they are in a re-saleable condition.

In order to process your return please include the following information:

Your order number
- If you need a replacement or refund
- The reason for the return
- If the item is faulty please include exactly where the fault is on the item

All returns are processed within five working days of them being received and we will send you an email when we have processed your return and inform you of any refunds that have been processed. Please allow 1-5 working days for refunds to be processed back into your account.
For more information, please go to our Terms and Conditions page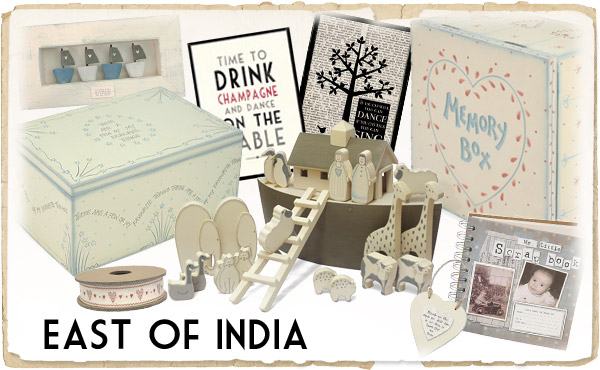 East of India remains one of the most popular brands on our website, sourcing gifts from across the globe that are beautiful, authentic, and unique.
In 1989, founders Anne Spratling and John Ayris went travelling around the world, meeting a talented family of craftsmen while making their way through Asia.

These artisans hand-made the most charming items out of paper, wood and other natural materials found near their village. And so after some close work and friendly bargaining, a selection of products was created, a small collection was bought, and the seed of an idea was sown.

Early in 1991, the Prince's Trust forwarded a small loan to help transport that first consignment back to England and East of India was born.

Today, East of India still works closely with those original artisans, who now employ numerous other family members and friends to satisfy the increasing demand. They design all their products around the extensive range of traditional skills that these craftspeople possess, and the products you see are the result of this close working relationship. Many of the artisans live and work together as family groups, passing down their skills through the generations.

The team in Folkestone has also evolved and grown, with many members of staff having been with East of India since those early days. They continue to respond with energy and enthusiasm to the ever-changing requirements of what is now a hugely successful business, generating much needed wealth for some of the poorest communities in the world.
The success of East of India lies in the personal touch of every single item they create. Products are developed in-house by a team of talented designers, with everything being hand-made or hand-finished to create unique and beautiful products with that instantly recognisable East of India style.

It is the extensive skills of these artisans combined with the imagination of the Folkestone-based designers that is the key to why East of India and their products are so special and impossible not to fall in love with!
With over 800 products in stock, TemptationGifts is the most comprehensive stockist of East of India to be found on the web. We work closely with our friends at East of India to make sure that every time they add new products to their huge portfolio, we put them straight into our 'New In' category.
It's reassuring to know that we are East of India's biggest independent account. So whether you're in one of our high street stores, or you're shopping online, you know you're dealing with a company which loves East of India as much as you do!
Discover even more about East of India and our relationship with them by clicking here.