Return to Previous Page
Details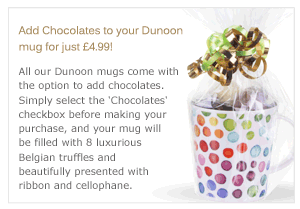 Farm Breeds Hen
This delightful Nevis Shape mug features images and names of different breeds of hens. This way you can learn all about farm animals whilst enjoying your favourite drink.
Nevis
Big chunky and very comfortable to drink from, Nevis shape fine bone china mugs have a generous capacity of 480ml. All designs are both dishwasher and microwave safe, with the exception of those featuring gold embellishment.

Additional Information
| | |
| --- | --- |
| Product | Mug |
| Dunoon Shape | Nevis |
| Material | Fine Bone China |
| Height (cm) | 11.5 |
| Diameter (cm) | 5.5 |
| Base Diameter (cm) | 10 |
| Capacity (ml) | 480 |
| Features | Dishwasher Safe, Microwave Safe |
Delivery
Within the UK
Standard delivery within the UK is charged at a rate of £3.99. Guaranteed, signed-for Next Day delivery is available for just £6.99.
Delivery Class
Delivery Time
Delivery Charge
Orders over

£49.99

Standard Delivery
Up to 5 working days

£3.99

FREE
Premium Delivery
1 - 3 days

£4.99

£1.00

Next Day Delivery
Next working day

£6.99

£3.00
Free UK shipping on Greeting Cards and Carrie Elspeth
Orders containing only Greeting Cards or Carrie Elspeth jewellery qualify for optional free delivery. These orders are sent using our Standard UK Delivery method. Please allow up to 5 days for delivery.
International Delivery
For international delivery, shipping price varies with spend. Fast, signed-for courier delivery by FedEx is also available to all international destinations.
North America
Order Value
Delivery Charge
Surcharge for FedEx
upto

£10.00

£7.99

+

£8.50

£10.01

-

£25.00

£9.99

+

£8.50

£25.01

-

£50.00

£16.99

+

£8.50

£50.01

-

£75.00

£29.99

NO SURCHARGE
over

£75.00

£39.99

NO SURCHARGE
Europe
For these purposes Europe includes Turkey, Eastern European countries, non-EU countries, and the Eurasian republics.


Order Value
Delivery Charge
Surcharge for FedEx
upto

£10.00

£4.99

+

£10.00

£10.01

-

£25.00

£7.99

+

£10.00

£25.01

-

£50.00

£9.99

+

£10.00

£50.01

-

£75.00

£12.99

+

£10.00

over

£75.00

£17.99

+

£10.00
Rest of World
Order Value
Delivery Charge
Surcharge for FedEx
upto

£10.00

£7.99

+

£14.50

£10.01

-

£25.00

£9.99

+

£14.50

£25.01

-

£50.00

£16.99

+

£14.50

£50.01

-

£75.00

£29.99

+

£14.50

over

£75.00

£39.99

+

£14.50

Extremely rarely, in the event of unusually heavy orders going to overseas destinations, these shipping tariffs will prove insufficient to cover our costs. In which case we will contact you and request that you pay a postage surcharge to equal our specific shipping costs for your order.
Should you choose not to pay that surcharge we will refund your payment in full and cancel your order. Should we receive no reply to this request we will hold your order for seven days and then refund your payment in full and cancel your order.
Returns
If you would like to return an unwanted or damaged item back to us please inform our customer service team at customerservice@temptationgifts.com or 01494 790424 within 14 days of receiving the goods.

You will be asked to send the item back to us at the address below.

Temptation Gifts
Unit 2E
Woodlands Farm
The Vale
Chesham
Bucks
HP5 3NS

If the product has been damaged or received incorrectly you can download a free returns label to use however please inform the customer services team before doing so. If however you have decided to return an item as it is unwanted please send this back to us at your expense, keeping a proof of postage.
Please ensure they are returned in perfect condition and packaged securely, because you will only be eligible for a refund or replacement once we have received the goods and confirmed they are in a re-saleable condition.

In order to process your return please include the following information:

Your order number
- If you need a replacement or refund
- The reason for the return
- If the item is faulty please include exactly where the fault is on the item

All returns are processed within five working days of them being received and we will send you an email when we have processed your return and inform you of any refunds that have been processed. Please allow 1-5 working days for refunds to be processed back into your account.
For more information, please go to our Terms and Conditions page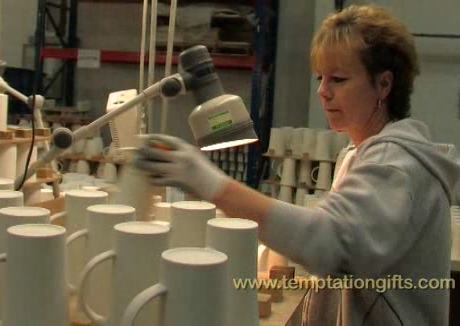 Established in Dunoon, Scotland, over 35 years ago, Dunoon are a market leader in fine bone china and stoneware mugs. Their shapes and designs are as sought-after around the world as they are here in the UK.
They source their clays from Cornwall, England, as it creates brilliant white and translucent Fine Bone China, as resilient as it is beautiful. Dunoon still use traditional skills and methods to forge their mugs: their craftsmen use a process known as 'slip casting', which uses liquid clay as opposed to machine-made, to achieve a finished mug that is fine to the touch, light to hold and a pleasure to use.
Equally as important as the physical craft of the mug is the aesthetic craft of the design. These are created by a talented 'in-house' design team and a wide portfolio of gifted freelance artists, many of whom have been associated with Dunoon for over 25 years. Further proof, if it was needed, that Dunoon understand the importance of consistency and longevity when it comes to producing top quality products.
The mugs are all finished with high quality glazes, and prints guarantee accurate colour reproduction, ensuring none of the incredible detail or rich shades are lost from the original and intended design.
Throughout every stage of the manufacturing process each one of their products is handled by a skilled craftsman, maintaining Dunoon's reputation of nearly 40 years of excellence in pottery making.
TemptationGifts is proud to be one of Dunoon's oldest and best customers - we have been stocking Dunoon mugs ever since 1983! And it's this unique partnership that has paved the way for Temptation to be named Dunoon's Recommended Online Retailer. You can read more about our partnership by clicking here.